OUR

Feature - Day of Action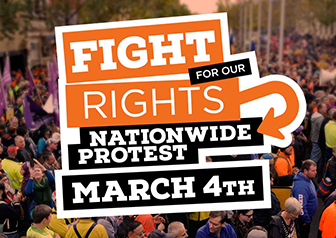 4 MARCH 2015
mark your calendar!

Australians have had enough of attacks on our living standards but the Federal Government just won't listen. So it's time to march for:
our rights at work
saving Medicare
defending our community services
preventing $100,000 university degrees
protecting the ABC, SBS and our public services
no cuts to the pension and super
ending Govt cuts that target the vulnerable, like unemployed youth, victims of domestic violence, etc
Times and locations will be confirmed soon - register your interest in attending and you'll receive updates:
Are you #ReadyToFight for your rights?