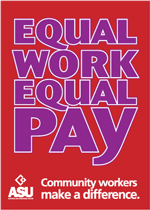 Social & Community Services (SACS)
The ASU is the largest union of workers in the social and community services (SACS) sector.
The ASU covers workers in what is commonly termed the "non-government social and community services industry". The term non-government can be misleading as most organisations or services receive funding from the government; however, workers are not employed by the government. Workers are generally employed by community based management committees, boards or collectives. These employers administer government funds and oversee the management of an organisation or service.