Today at Prime Minister Malcolm Turnbull's electorate office in Edgecliff, hundreds of community sector workers rallied and delivered pledges to the office collected from around Australia supporting their sector. Accompanying the pledges was a series of demands directed to Mr Turnbull to repair the damage done to local communities through over $1 billion worth of Coalition funding cuts to services.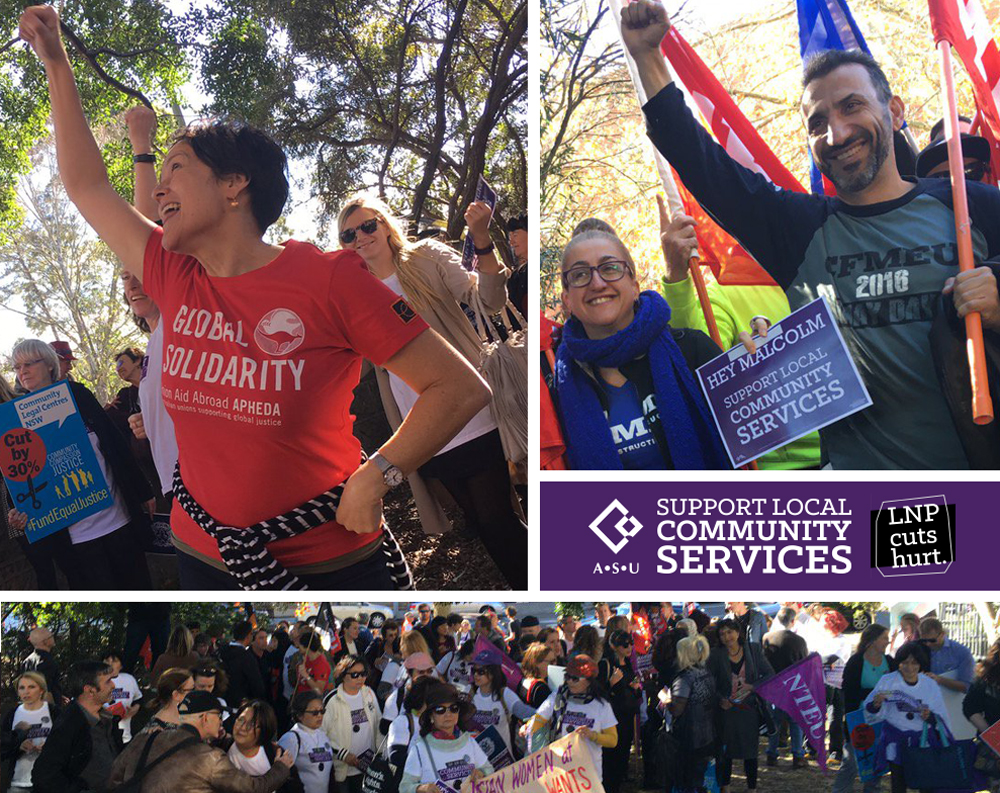 STOP PRESS: Turnbull's secret plan for big business to profit off domestic violence, homelessness services revealed
The demands include:
Reversal of community sector funding cuts made since Coalition took power in 2013.
No companies to profit from provision of community services to vulnerable people.
A fairer funding model for community services which includes longer term contracts.
Respect for the advocacy role community sector workers have by removing the gag imposed on them by the Coalition.
The rally asked the Prime Minister to consult his brain, listen to his heart (the Tin Man was there to make this point) and use his courage to acknowledge that the community sector cuts imposed by his Government are devastating to local communities, and to repair that damage.
Watch the rally videos if you couldn't be there
For some colour and movement, it's a dance action to Aretha Franklin's "Think" to remind Mr Turnbull to consult his brain. Very appropriate lyrics!
Mr Turnbull, you better think, think, think about what you're trying to do to our local communities!
Listen to what the consequences of the Coalition's hurtful cuts have been and will be as they continue to roll out
Is this Federal Government serious about creating a better future?
If Mr Turnbull is at all serious about his proclaimed desire to build an agile and innovative Australia that tackles the future without fear, he needs to step out from behind the Wizard of Oz's protective curtain. The Prime Minister needs to front up to genuinely address how we must strengthen our local communities by helping vulnerable individuals find a way out of the destructive cycle of harm that many are caught in.
Continuing with the cuts of over $1 billion from community services can only be interpreted as Mr Turnbull turning is back on Australians who rely on his protection the most, turning his back on them, their families and their communities.
For a breakdown of the community sector cuts, please visit: Stop closing the door on vulnerable people - ASU calls for increased funding.
For a contrast with the ALP policy announced this week at the ASU's community services leaders forum: ASU community services leaders welcome ALP sector policy
STOP PRESS: update 30 June 2016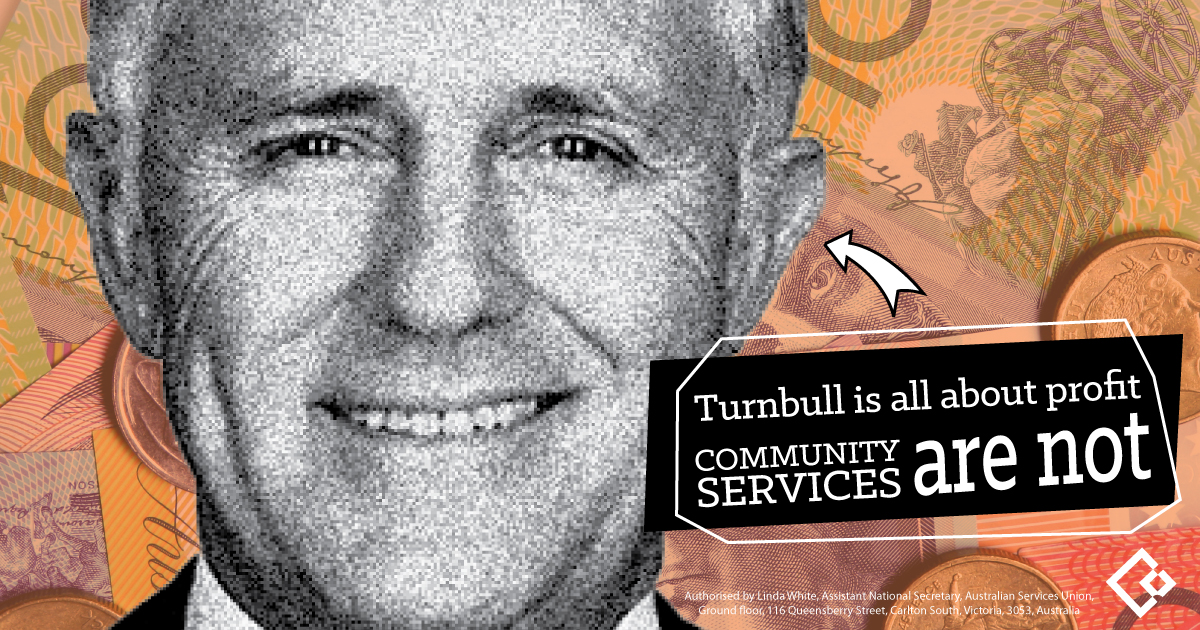 Late in the election campaign the ASU has discovered that just before the election was triggered, Coalition Treasurer Scott Morrison sent terms of reference to the Productivity Commission in order to initiate an inquiry into commercialising community services and other human services!
This Federal Government is not just intent on cutting funding to local community services, but subjecting them to competition and privatisation. Our campaign against the cuts included a call to ensure private companies cannot profit from vulnerable people in our society - this inquiry goes against that.
Read the details here: Turnbull's secret plan for big business to profit off domestic violence, homelessness services revealed
Follow the campaign online
ASU Social, Community & Disability Workers campaign: www.facebook.com/ASUsacsdisability
#‎CutsHurt ‪#‎ausvotes