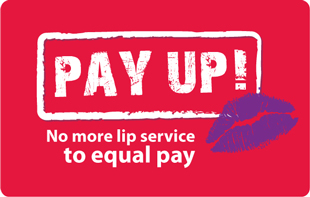 Pay Up
Pay Up - No More Lip Service to Equal Pay is a campaign of the Australian Services Union (ASU). The ASU is the union of Community Sector Workers.
Community Sector workers are undervalued and underpaid and not properly respected. Their work has traditionally been seen as "women's work" and their wages have been restricted as a result.
In 2010, unions led by the ASU and supported by the ACTU and the Federal Government lodged a test case in Fair Work Australia using the then new Equal Remuneration Laws embedded in the Fair Work Act. The case has impacted the working lives of about 200,000 community workers.
The community sector is largely reliant on government funding to run its essential services and to pay the wages of the workers. Winning the case will prove that these workers are undervalued - but, the case outcome alone will not correct the injustice. Workers need the Government to fund the outcome of the case to make Equal Pay a reality. ASU members and supporters will campaign for the funding and we invite you to get and stay involved.
This case has made history.