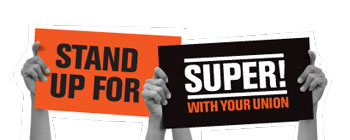 Superannuation & retirement
About 20 years ago, less than half of all workers had superannuation. As a result of union activity, employees have made substantial gains and today that figure is closer to 97%.
Superannuation is rightly considered a major issue given that for many people it has become their second biggest asset after the family home. Super is a crucial ingredient in our plans for retirement and will determine for many people whether they have a decent standard of living when they cease working.
The ASU has fought for superannuation for our members and was directly involved in test cases that extended it to casual workers. You can read about some of super's history here.
Today, we continue to fight for adequate levels of super as it is widely acknowledged that the Government's Superannuation Guarantee of 9% is not sufficient for a comfortable retirement.
ASU members are continuing to campaign to win better superannuation entitlements through enterprise bargaining. From the middle of 2008, enterprise bargaining will be the only way employees will be able to win improvements in their superannuation.