Community sector workers and union representatives from around Australia met at Springwood in the Blue Mountains today to discuss their priorities in the campaign to save their sector from devastating cuts imposed by the Turnbull Federal Government. Shadow Minister for Families and Payments and Disability Reform Jenny Macklin met with the leaders to pledge her support and announce the ALP's platform representing a new partnership with the community sector.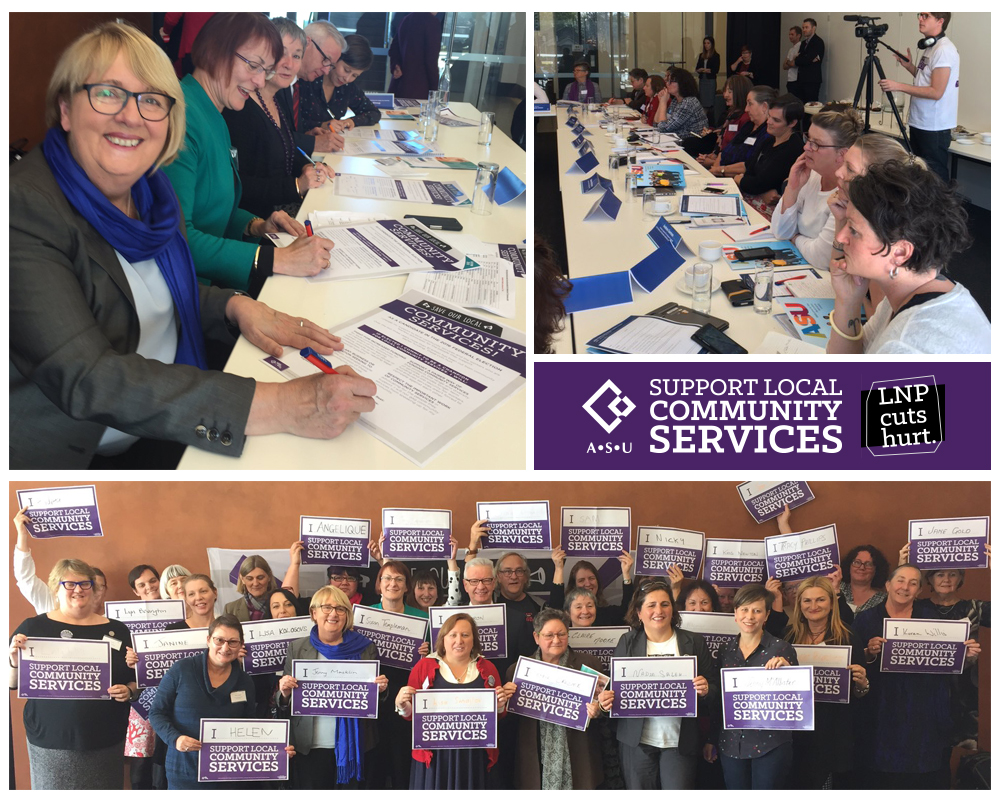 STOP PRESS: Turnbull's secret plan for big business to profit off domestic violence, homelessness services revealed
The meeting outlined the community sector's main concerns arising from the Coalition Government's funding cuts, the chief one being how the cuts affect vulnerable people and their communities in general. With the massive cut of over $1 billion, many services have been wound back, others abolished entirely but in either case, clients are left to suffer the consequences, with flow on effects for their families and communities.
In addition to fighting for the reversal of funding cuts, the meeting also discussed the fraught funding model itself, which has led to a lack of continuity and stability for a long time, resulting in insecurity for workers, services and clients alike. A fairer way of funding community services was discussed, one that protects the range and diversity of services, provides longer term funding and job security for workers, as well as ensuring services aren't forced to compete against each other.
The community sector leaders also reasserted their opposition to any business or corporation providing community services which is seeking merely to profit financially from vulnerable people. This was viewed with deep scepticism as a model that could deliver the type of compassionate care that the sector needs to provide.
Shadow Minister Jenny Macklin spoke to the meeting and announced "Labor's Plan for a Strong, Vibrant and Sustainable Community Sector" (download below). Some of the key features include:
moving to five year funding contracts to improve stability for the sector;
not allowing companies to make profit for work with vulnerable people;
establishing the Community Sector Partnership to permanently provide a mechanism for consultation between the Government and the community sector, and to develop a shared approach to providing services; and
supporting workers' advocacy for their clients by removing gag provisions imposed by the Coalition.
It was a relief to hear that the ALP will remove the political gag that the current Federal Government placed on community sector workers, making it impossible for them to promote the interests of their clients through lobbying and campaign work! We're also pleased with the recognition that the community grants process instituted by the Coalition, where services had to compete against each other for funding, was "botched" and utterly counterproductive. The ALP promise to scrap it is what we've been seeking all along. Additional funding for volunteer grants is also a step forward.
The ASU also welcomed the ALP's announcements earlier this week promising to restore funding of $43 million over three years to help community legal centres (CLCs) keep their doors open. Given the huge number of people seeking legal assistance who have been turned away, this funding cannot come soon enough to ensure justice remains accessible to our communities.
The gathering ended on a positive note, with a determination to make every day between now and the election count in the campaign to reverse the sector's cuts. Workers will be out in force, talking to their communities about what a returned Turnbull Government will mean on the local level – and advising them to put the LNP last.
STOP PRESS: update 30 June 2016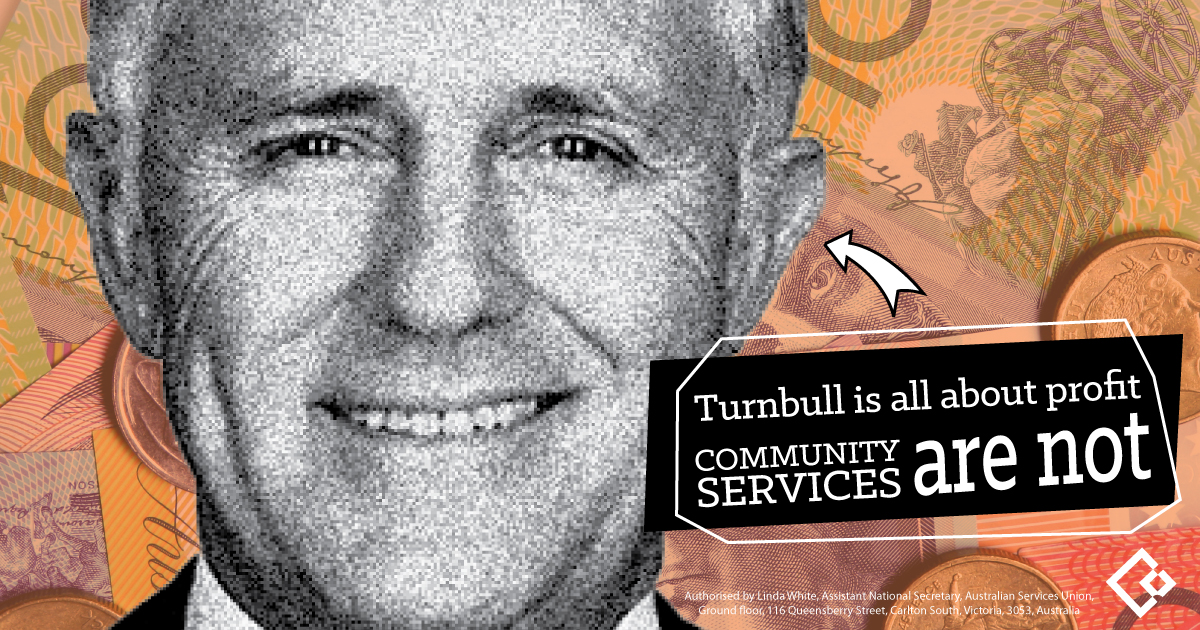 Late in the election campaign the ASU has discovered that just before the election was triggered, Coalition Treasurer Scott Morrison sent terms of reference to the Productivity Commission in order to initiate an inquiry into commercialising community services and other human services!
This Federal Government is not just intent on cutting funding to local community services, but subjecting them to competition and privatisation. Our campaign against the cuts included a call to ensure private companies cannot profit from vulnerable people in our society - this inquiry goes against that.
Read the details here: Turnbull's secret plan for big business to profit off domestic violence, homelessness services revealed
Follow the ASU campaign against cuts to community services on Facebook: www.facebook.com/ASUsacsdisability
• Download ALP media release and fact sheet: Labor's Plan for a Strong, Vibrant and Sustainable Community Sector
• Read the ALP's media release on CLCs: Labor's Boost for Community Legal Centres