As published in the Daily Telegraph and the Courier Mail, 1 July 2020
Where the bloody hell are the planes, ScoMo
LINDA WHITE
As AUSTRALIANS slowly emerge from their COVID-19 cocoons, many are looking upwards, searching the sky for planes which used to be such a familiar sight.
Most of us don't know when we'll next hop on a jet for business or to visit family and friends interstate, much less overseas.
But when borders re-open and the time comes, we need those planes to be there.
Our aviation industry is at a critical juncture. The impact of COVID-19 has been devastating, pulling those jets out of the sky and parking them indefinitely.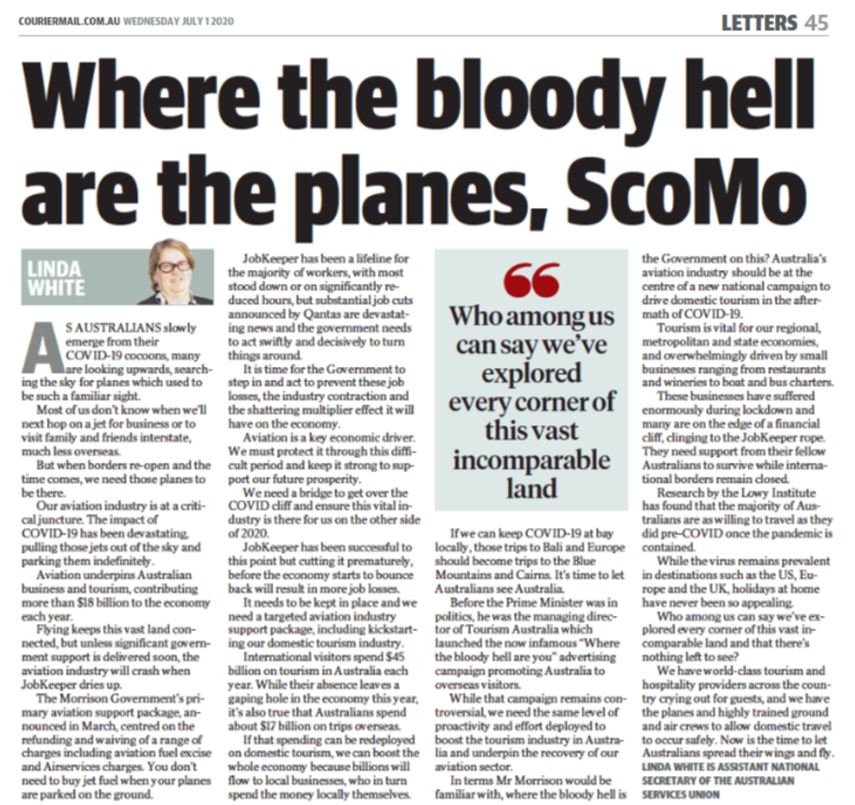 Aviation underpins Australian business and tourism, contributing more than $18 billion to the economy each year.
Flying keeps this vast land connected, but unless significant government support is delivered soon, the aviation industry will crash when JobKeeper dries up.
The Morrison Government's primary aviation support package, announced in March, centred on the refunding and waiving of a range of charges including aviation fuel excise and Airservices charges. You don't need to buy jet fuel when your planes are parked on the ground.
JobKeeper has been a lifeline for the majority of workers, with most stood down or on significantly reduced hours, but substantial job cuts announced by Qantas are devastating news and the government needs to act swiftly and decisively to turn things around.
It is time for the Government to step in and act to prevent these job losses, the industry contraction and the shattering multiplier effect it will have on the economy.
Aviation is a key economic driver. We must protect it through this difficult period and keep it strong to support our future prosperity.
We need a bridge to get over the COVID cliff and ensure this vital industry is there for us on the other side of 2020.
JobKeeper has been successful to this point but cutting it prematurely, before the economy starts to bounce back will result in more job losses.
It needs to be kept in place and we need a targeted aviation industry support package, including kickstarting our domestic tourism industry.
International visitors spend $45 billion on tourism in Australia each year. While their absence leaves a gaping hole in the economy this year, it's also true that Australians spend about $17 billion on trips overseas.
If that spending can be redeployed on domestic tourism, we can boost the whole economy because billions will flow to local businesses, who in turn spend the money locally themselves.
If we can keep COVID-19 at bay locally, those trips to Bali and Europe should become trips to the Blue Mountains and Cairns. It's time to let Australians see Australia.
Before the Prime Minister was in politics, he was the managing director of Tourism Australia which launched the now infamous "Where the bloody hell are you" advertising campaign promoting Australia to overseas visitors.
While that campaign remains controversial, we need the same level of proactivity and effort deployed to boost the tourism industry in Australia and underpin the recovery of our aviation sector.
In terms Mr Morrison would be familiar with, where the bloody hell is the Government on this? Australia's aviation industry should be at the centre of a new national campaign to drive domestic tourism in the aftermath of COVID-19.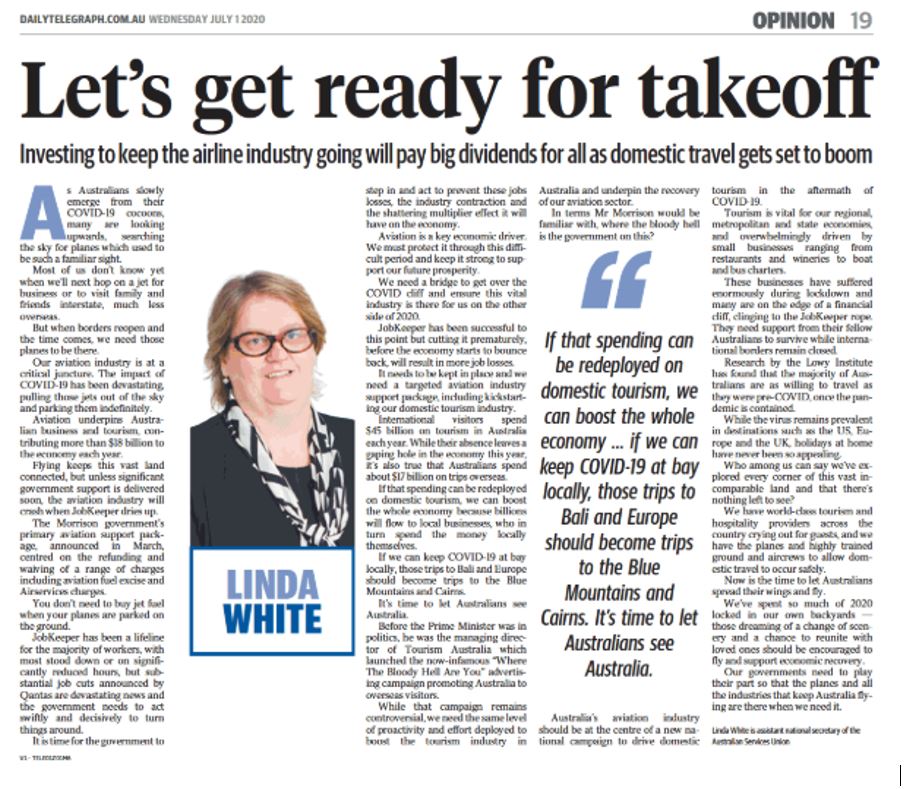 Tourism is vital for our regional, metropolitan and state economies, and overwhelmingly driven by small businesses ranging from restaurants and wineries to boat and bus charters.
These businesses have suffered enormously during lockdown and many are on the edge of a financial cliff, clinging to the JobKeeper rope. They need support from their fellow Australians to survive while international borders remain closed.
Research by the Lowy Institute has found that the majority of Australians are as willing to travel as they did pre-COVID once the pandemic is contained.
While the virus remains prevalent in destinations such as the US, Europe and the UK, holidays at home have never been so appealing.
Who among us can say we've explored every corner of this vast incomparable land and that there's nothing left to see?
We have world-class tourism and hospitality providers across the country crying out for guests, and we have the planes and highly trained ground and air crews to allow domestic travel to occur safely. Now is the time to let Australians spread their wings and fly.
LINDA WHITE IS ASSISTANT NATIONAL SECRETARY OF THE AUSTRALIAN SERVICES UNION