Thousands of workers that tirelessly run the NSW electricity network woke this morning to an unprecedented attack from their own management, with veiled threats that they face a choice between cuts to their wages and conditions, or mass outsourcing of jobs.
Read this item on the Branch website here and find further information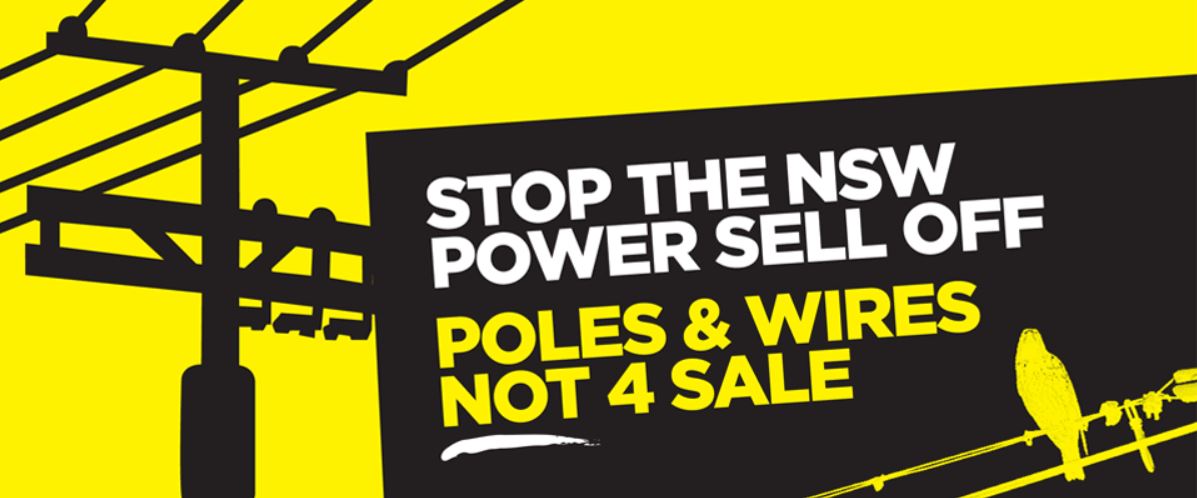 Power industry unions described the attack by Networks NSW CEO Vince Graham — the highest paid public servant in the state — as a cowardly act aimed at running the political agenda of his Liberal Party masters in Macquarie Street.
The United Services Union and Electrical Trades Union, which represent thousands of workers at Ausgrid, Endeavour Energy, Essential Energy and TransGrid, said Mr Graham was using selective facts and misinformation to falsely blame workers for high power prices.
"Not only has Mr Graham launched an unprecedented attack on his own workforce — falsely telling every power consumer in NSW that these workers are the reason for their high power bills — but he has also issued a veiled threat to their very jobs," USU general secretary Graeme Kelly said.
"By claiming that wages and conditions will inevitably 'drive the outsourcing of existing jobs', Mr Graham has issued an ultimatum to thousands of workers to either accept pay cuts or lose their jobs.
"This is an extraordinary action for a CEO, is terrible for staff morale, and creates division and animosity in the workplace and the broader community."
The unions said that wages actually make up less than $200 of the annual power bills of the average family, with the dividends paid to the NSW Government adding more than double that amount.
"Every year the average NSW family pays $450 in their power bills that go directly to the NSW Government as profits, which is more than double the cost of the workforce that ensure reliable, safe electricity is provided to homes across the state," ETU secretary Steve Butler said.
"During the last two years, NSW power workers received pay increases of just 2.45 per cent, which added less than fifty cents per month to the average electricity customer.
"Meanwhile, Vince Graham's salary package increased by a whopping 27 per cent last year, taking his total package to almost $1 million and making him the highest paid public servant in NSW."
Mr Kelly said that Vince Graham had also failed to acknowledge the fact that South Australia, which privatised electricity in the 1990's, had the highest electricity prices in the nation, while privately-run power in Victoria delivered identical prices to the public network in NSW.
"Wages and conditions in the NSW power industry are in line with other states, including those with privatised power networks, because without competitive wages, highly skilled professionals would leave the workforce," Mr Kelly said.
Read this item on the Branch website here and find further information