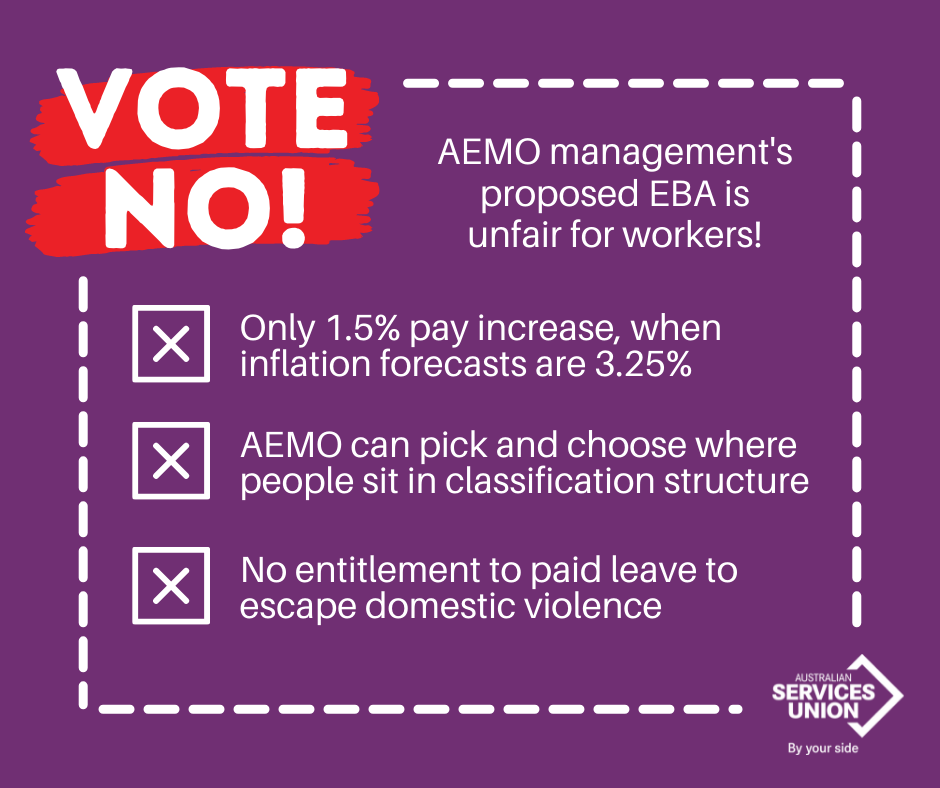 The ASU is the union for workers in the electrical industry. We represent workers in professional and operational roles in the electrical power industry across Australia.
Click here to register for the ASU EBA meeting at 11.00AM on 8 July. We'll be having a vote of members to decide the ASU's position on the EBA. Non-members are welcome to join the meeting, but only members will decide the outcome. Join us and have your say.
AEMO management is trying to rush through a new EBA without the agreement of your bargaining representatives.
Management have broken off negotiations, and will soon ask AEMO employees to vote up their sub-standard EBA.
AEMO management's proposed EBA has several big problems:
A 1.5% pay increase in July 2021. Reserve Bank forecasts that inflation will increase by 3.25% in the year to June 2021. This is a pay cut! This is followed by 2% pay increases in 2022 and 2023, which are also likely to be below inflation.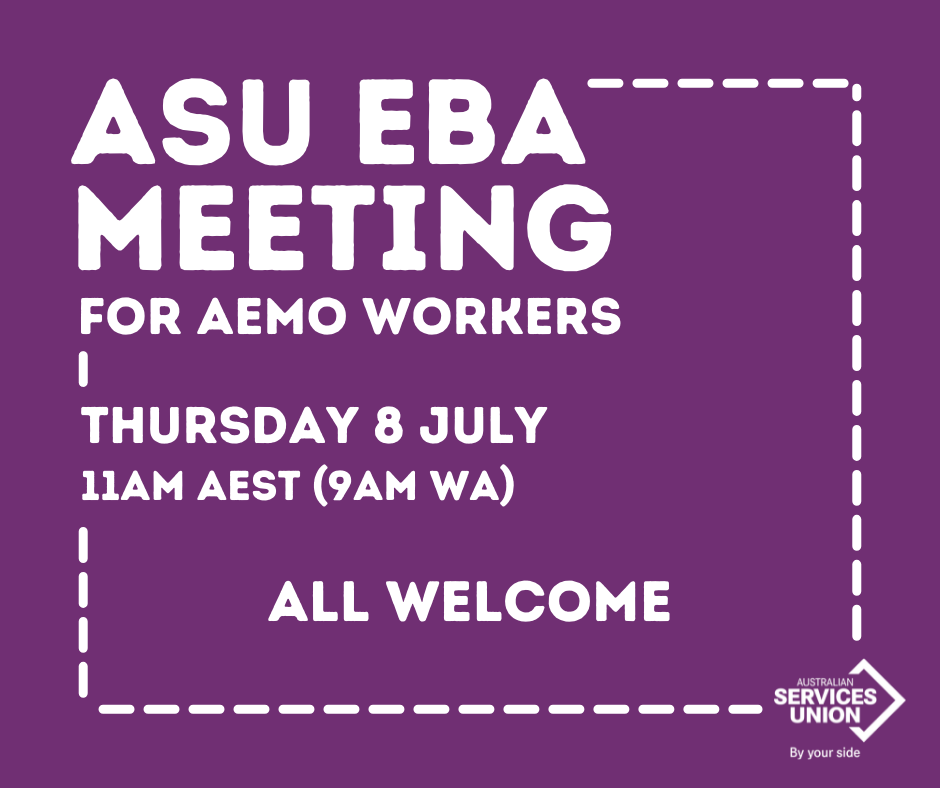 Many employees will be cut out of EBA coverage. While the company has promised to 'red-circle' people in their current roles, the new scope means that you could be taken off the EBA if you were promoted or transferred within the company
A new classification system that isn't transparent. The company's proposal would allow AEMO management to pick and choose where people sit in the classification structure. There should be objective criteria to set pay, so people who do the same work are paid the same rates.
No paid leave for employees escaping domestic violence.
The ASU will be holding a meeting of members at 11.00AEM Eastern Time (9.00AM WA Time) on Thursday, 8 July to discuss our response to managements shoddy offer. You can register for the meeting by clicking this link:https://asu-asn-au.zoom.us/meeting/register/tZIqcOuqqD4pHdVaX8hZgaSrRhVDOH9PQLnr
If you aren't a member, please join us for the discussion. To have your say, join at www.asu.asn.au/ASUJOIN.
For more information, contact your local ASU organiser:
| | | |
| --- | --- | --- |
| Branch | Organiser | Contact |
| QLD | Jacqui Pedersen | 0447 092 388 |
| NSW | Troy Dunne | 0419 403 076 |
| VIC | Jonathan Smallbone | 0417 105 113 |
| SA | Scott MacFarlane | 0426 291 572 |
| WA | Yvonne Klaa | 0417 969 767 |

AEMO Bulletin 050721