The Australian Services Union today condemned the Federal Government's replacement for JobKeeper as "welfare for business".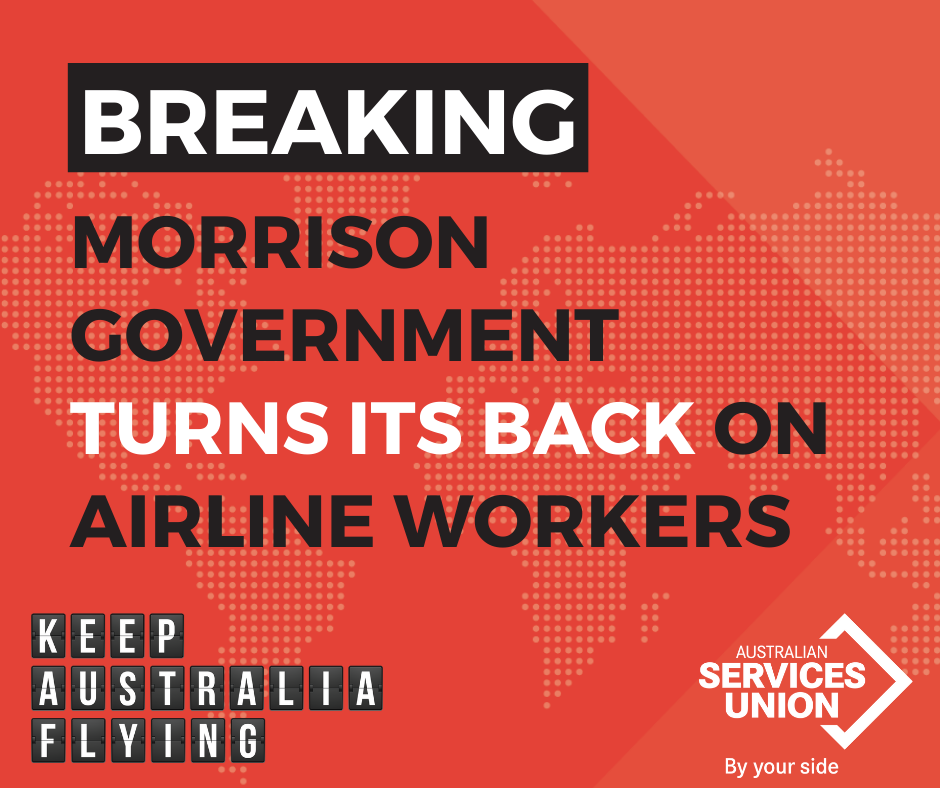 Emeline Gaske, Assistant National Secretary of the Australian Services Union - the largest union representing workers in the aviation industry - said the Government's decision not to tie industry assistance to jobs was a huge mistake which would cost workers and the economy.
"The whole point of JobKeeper was that money was put into the pockets of workers who need it, and that they remain employed," Ms Gaske said.
"This is the approach the union movement pushed for and it has been hugely successful notwithstanding the number of workers who were excluded from the program by the Government.
"Without the connection to jobs, or putting money in the pockets of workers who need it, this is just corporate welfare.
"This is taxpayer money designed to flow into the pockets of businesses, not workers, with no strings attached."
Even on conservative estimates, more than a quarter of a million jobs will be lost when the Government cuts the program on the eve of Easter and Ms Gaske said the aviation industry would be hard hit.
"If we allow hundreds of thousands of Australians to fall into the Centrelink queue now, then the collective effort of all Australians to work our way through this pandemic will be largely wasted."
"The Government's outrageous decision to give money directly to businesses with no requirement to pass the money on to the workforce, or to even keep them employed, means that the industry will take even longer to recover – because we just won't have the workers we need ready to go as the skies open up.
"With the opening of state borders and the rollout of the vaccine, airline workers have had hope that they may just get through this crisis. The Government has today cruelly dashed those hopes by turning its back on the workers and instead giving money to businesses.
In a recent survey of aviation workers, 78 per cent were reliant on JobKeeper and the vast majority were relying on cash from liquidating assets or deferring bills.
More than 4 in 10 had accessed their super early, 41 per cent had deferred school fees and other expenses and half were struggling to pay their mortgage or rent. Many reported having already sold their home.
Ms Gaske said the most alarming finding from the research was that 72 per cent said they will not be able to support their families any longer if JobKeeper is withdrawn.
"Workers in the aviation industry have been hanging on by a thread, many draining their super, selling their homes, and borrowing money to survive.
"The Government is about to cut that thread.
"Cutting JobKeeper will mean fewer workers, fewer flights, less travel and less money flowing into regional and local economies off the back of domestic tourism."
Contact your local ASU organiser if you have any questions.