When you change the government, you change the country. It's a truism but it bears repeating as we hurtle towards a federal election. What isn't as readily obvious but is also true is that changing this particular Federal Government may be easier than many people think. It could even be as simple as making sure you and all your friends, especially the young ones, are correctly enrolled to vote.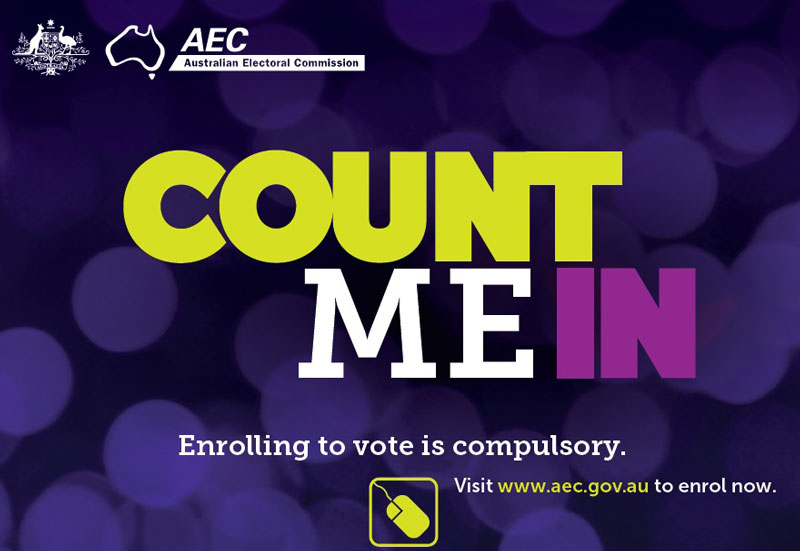 >> Visit AEC website to enrol or check your enrolment
Many people believe that as soon as an Australian turns 18, they will automatically appear on the electoral roll. This is not the case!
It's a reasonable assumption, given that voting is compulsory in Australia. As the Australian Electoral Commission's website says:
"Compulsory voting means that every eligible Australian citizen (18 years or older) is required by law to enrol and vote. If a person does not vote and is unable to provide a 'valid and sufficient' reason, a penalty is imposed." AEC website
It is up to the individual to ensure they are enrolled correctly and that they vote – not just in federal elections, but also state and local government elections, etc.
"It is compulsory by law for all eligible Australian citizens to enrol and vote in federal elections, by-elections and referendums." AEC website
Unfortunately, the confusion over how people get on the electoral roll has resulted in a large number of young Australians not being enrolled at all. This means that the result of elections is not truly representative of our community.
We encourage ASU supporters to make sure they are correctly enrolled well before any election, but we also encourage you to talk to your friends and family, especially young people who are the ones who are most often left voiceless at elections, about enrolling. It's easy to do the entire process online, including signing:
>> Visit AEC website to enrol or check your enrolment
Australians as young as 16 years old can enrol so that when they turn 18, they'll automatically be able to vote. So have a chat with all your young friends and family who are 16 years old and up.
But will this change the government and therefore the country? Numbers indicate that if EVEN ONLY A FRACTION of currently un-enrolled young people suddenly got on the electoral roll, many seats would change hands at the coming federal election because young people tend to vote progressive (they have their eyes on the future, you know).
Issues like affordable health care through Medicare, rising university fees, access to jobs, unfair taxes on the low paid, threats to penalty rates, rights at work, climate change, the NBN – all these and more mean a lot to young people (and many of the not so young, too) and we believe the current Federal Government, Turnbull's Coalition Government, is responsible for undermining these policy areas.
Together we can change the government and the country for the better by enrolling to vote and voting on the real issues that matter to us all.