The Business Council of Australia's failure to produce a shred of economic evidence to justify the Turnbull Government's corporate tax cuts under questioning from the ABC shows that this policy is not designed to do anything other than hand cash to businesses and, bizarrely, the United States' Internal Revenue Service.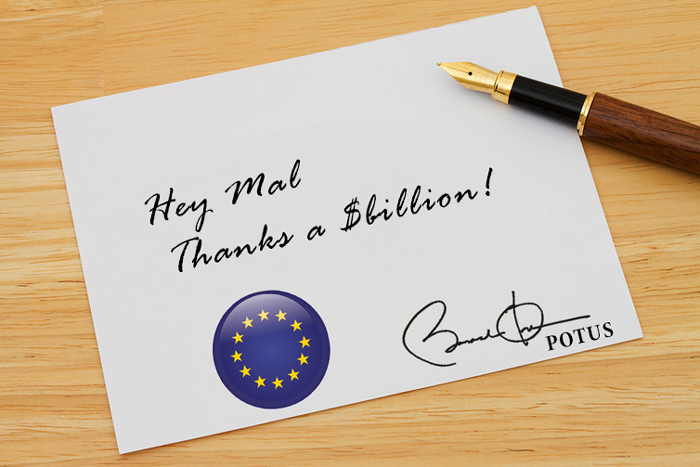 According to tax arrangements in place between Australia and the United States – whose corporate tax rate is already significantly higher than our own – any United States company which pays tax in Australia at the lower Australian rate must pay the difference between the two rates to the American Internal Revenue Service.
This means that lowering the corporate tax rate in Australia makes no difference to the overall tax paid by American companies, which account for 27% of the international investment that this tax cut was advertised to stimulate.
Surely this was not Turnbull's intention? Did Treasurer Scott Morrison, Finance Minister Mathias Cormann or Assistant Treasurer Kelly O'Dwyer even realise this was going to be the result? There are serious questions here about competence in financial management. If they did intend it, then there are other serious questions. For example, how is handing the US billions of dollars of what could have been our tax revenue going to make the Coalition's "jobs and growth" materialise?
Corporate tax cuts are not a plan for jobs or growth. Modelling by Treasury in 2014 found that in the short term the biggest benefits went to the profits of the companies themselves, and in the longer term the improvement in GDP would be small and the growth in jobs less than 1%. The Government's own budget forecasts show that business investment will be down 5% next year and flat the year after
Instead of the already unlikely possibility that these business savings will go to investment, the major impact of this policy as applied to American companies is that it will be to funnel more money out of the Australian economy, in this instance landing in the coffers of the US Government. The Turnbull Government has found a way to legislate offshoring of profits!
The United States is by far the largest contributor to foreign investment in Australia. Pushing locally generated profits back to the United States will have a real impact on the amount of revenue that these companies generate for our own government. But it will have no impact on how much tax these companies pay overall and therefore does not provide any incentive for them to increase investment in Australia.
Quotes attributable to ACTU President Ged Kearney:
"It's clear that this policy is all about corporate handouts rather than acting in the best interests of all Australians."
"We are seeing a clear pattern emerge from this Government: half-baked policy announcements followed by waves of questions and criticism from the very experts that the government should be consulting with, and then finally the quiet retreat back to the drawing board."
"When the Mr. Turnbull promised innovation I don't think this is what most Australians had in mind."
Media Contact: Peter Green 0400 764 200