We are saddened to hear of the recent passing of Janice Mayes.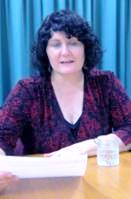 Janice was the President of the Federated Clerks Union (Central and Southern Queensland Branch) from 1990 before it became the Australian Services Union in the early 1990s. She was a champion for women's rights and always put the members first.
As President of the Federated Clerks Union from 1990, Janice oversaw a range of campaigns concerning workplace bullying, privatisation, unpaid overtime and issues relating to women. She affiliated the union with the ALP in 1990. She oversaw the amalgamations that led to the union becoming the Australian Services Union in 1991.

She became Secretary of the Clerical and Administrative Central and Southern Queensland Branch of the Australian Services Union from 1993 and served as a member of the union's National Executive until 2006.

As Secretary, Janice was involved in an industrial dispute during the mid-1990s calling for extra funding for Queensland Health and opposed the privatisation of the Queensland TAB. She was active in the Trades and Labor Council of Queensland for nine years.
Janice grew up in Garbett, Townsville and was educated at St Mary's and Joseph's Primary School and St Patrick's Girls College in Townsville, before attending a boarding school in Charters Towers for her final two years. Janice's family had a strong union ethos. She left North Queensland to study a Bachelor of Arts degree at Griffith University where she joined the Griffith University Union of Students (GUUS). In 1989 she became Chair of GUUS, as well as the Electorate Officer for Labor candidate Anne Warner during the Goss State election campaign. She joined the Federated Clerks Union whilst serving as an Electorate Officer.
Since leaving the ASU Janice pursued a successful career as a barrister in Townsville alongside her ever loving partner, Mike Reynolds, Labor MLA for Townsville and Speaker of the House (1998-2009).