Recently our global union affiliate UNI reported an update on the campaign to have supply chains around the world enter into a fire and building safety agreement to ensure workers are protected from tragedies like the Rana Plaza collapse that claimed the lives of more than 1,100 workers, an event that shocked the ASU and the world in 2013.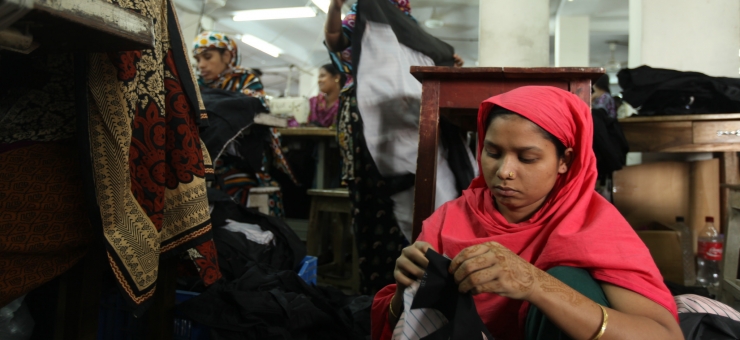 >> Click here to read this item in full on the UNI website
From UNI: Paris, 29 June 2017. Leading fashion brands are redoubling their commitments to responsible global supply chains by entering into a new Accord on Fire and Building Safety in Bangladesh with global trade unions.
IndustriALL Global Union, UNI Global Union, together with brand representatives from C&A and LC Waikiki, will announce the new agreement at today's OECD Global Forum on Responsible Business Conduct in Paris.
The agreement was initially signed by Kmart Australia, Target Australia, Primark, Helly Hansen, H&M, Inditex (Zara), C&A, Otto, KiK, Aldi South, Aldi North, Lidl, Tchibo and LC Waikiki. A further eight brands: Esprit, Hüren, Bestseller, Wibra, Schmidt Group, N Brown Group, PVH, Specialty Fashion Group Australia committed to signing.
Click here to see the updated list of Accord signers.
It means that over a thousand Bangladeshi garment factories supplying signatory brands will be covered under the new Accord.
Signatory brands of the current Accord are today meeting in Amsterdam to consider the new agreement, and it is expected that most of them will sign. IndustriALL and UNI are signatories to the new Accord, while four non-governmental organizations including the Clean Clothes Campaign and the Worker Rights Consortium will be witness signatories.
This three-year agreement builds on the achievements of the first Bangladesh Accord signed in May 2013 in response to the Rana Plaza building collapse. It continues the first Accord's ground-breaking legally binding framework and commitment to transparency. It also adds new worker protections and ensures that many more factories will be inspected and renovated, as signatory brands add suppliers.
The Rana Plaza collapse in April 2013 claimed the lives of more than 1,100 workers, injuring 2,500 more. Six weeks later, unions, non-governmental organizations and brands announced the first Bangladesh Accord. Currently, the Accord covers more than 2.5 million workers. The new Accord goes into effect after the 2013 Accord expires in May 2018.
IndustriALL General Secretary, Valter Sanches, said: "Brands' renewed commitment to factory safety in Bangladesh is a vote of confidence in the Accord. The Accord is, at present, the only credible option for health and safety in Bangladesh garment factories. It shows that industrial relations can be used to save lives and improve global supply chains."
The new agreement extends independent, expert building safety inspections for three more years for all covered factories, ensuring that safety improvements achieved under the first Accord will be maintained and that new problems in any factory will be addressed.
Under the first Accord, engineers carried out fire, electrical, and structural safety inspections at more than 1,800 factories, identifying 118,500 hazards. Seventy-nine per cent of workplace dangers identified in the Accord's original round of inspections have been remediated.
Christy Hoffman, Deputy General Secretary of UNI Global Union, said: "Over the past four years, unions and worker safety organizations have worked together with global brands within the Accord to find a solution to the seemingly intractable problem of dangerous factories in Bangladesh. Many said that change was not possible. We've proven them wrong. Our aim is to create a global economy which respects the lives and dignity of all workers, and the Accord is a big step along that path. The 2018 Accord will continue the forward motion."
Since the Rana Plaza tragedy, the Bangladeshi garment industry has grown—US$6.6 billion in annual revenue—and so has the Accord's importance.
The new agreement puts greater emphasis on the right of workers to organize and join a union, recognizing worker empowerment is fundamental to assuring workplace safety. It includes enhanced protections for workers whose factories are closed or relocated due to the implementation of the agreement. It also presents the possibility to expand the Accord to sectors other than the readymade garment industry.
Amirul Amin, from IndustriALL Bangladeshi affiliate, the National Garment Workers Federation, said: "I am glad that we have reached agreement to extend the Accord. The IndustriALL Bangladesh Council of trade unions has zero tolerance of unsafe workplaces that threaten workers' lives. The Accord is extremely important to workers who now know about the safety issues in their factory and can do something about them."
Background
IndustriALL Global Union, based in Geneva, represents 50 million workers around the world in the sectors of industry, mining and manufacturing.
UNI Global Union, based in Nyon, Switzerland, represents more than 20 million workers from over 900 trade unions in the fastest growing sectors in the world – skills and services.
The Accord is legally binding commitment by signatory brands to ensure sufficient funds are available for remediation of factories. It covers factories in the readymade garment industry.
The signatories to the Agreement agree to continue a fire and building safety programme in Bangladesh until 31 May 2021.
The five-year first Accord expires in May 2018. Below is a summary of key achievements of the Accord, by the numbers:
0 deaths due to fire or structural collapses in any factory where inspection was completed and renovations commenced.
2,500,000 Bangladeshi garment workers are covered by the first Accord.
500,000 workers have been educated in health and safety by the Accord's training program, which aims to build and support health and safety committees in each factory.
1,800 factories independently inspected—and 7,000 periodic follow-up inspections—to identify safety hazards, mandate renovations, and verify their completion.
118,500 identified violations of the Accord's fire, electrical, and structural safety standards.
79 per cent remediation of workplace dangers identified in the Accord's original round of inspections. These corrections include changes like the installation of fire doors and the replacement of shoddy electrical wiring, the ignition source for most factory fires.
32 factory buildings with extreme structural flaws that created the risk of a Rana Plaza-like catastrophic failure were identified by the Accord's inspectors.
>> Click here to read this item in full on the UNI website