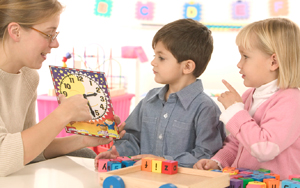 The ASU welcomes the news of and supports the United Voice equal pay application for private sector child carers as the need to recognise early childhood education and care grows.
ASU Assistant National Secretary, Greg McLean, attended the first hearing of the United Voice claim for equal remuneration for early childhood educators. The application came before the Fair Work Commission mostly for child care workers in the private sector covered by United Voice. The hearing was well attended with numerous employer group respondents.
The ASU supports the United Voice application. It is important to bring private sector child care rates of pay and conditions up to local government standards. After all, the great success of your ASU in local government child care can be lost should councils move to contract out the work. Councils can lose sight of quality public services and the long established commitment of local government to providing child care in your community.
The success of the ASU in local government child care has contributed to the development of a high standard public service. Councils' commitment to the delivery of that service will be more secure with improved pay and conditions for child care workers in the private sector.
ASU negotiates for all at the same time
The strength of the ASU comes from negotiation of single agreements for all local government. Agreements cover you across all work areas, from child care to libraries, local government community services, arts centres or the council town hall or one of the depots. The strength across groups helps all others and the ASU speaks for all council workers.
Unified in bargaining and negotiations, the ASU provides members with results. It also means you have colleagues from the whole sector in your corner – when one group of council workers is threatened the whole council workforce can be behind them.
The ASU has successfully campaigned since the mid-1990s to have councils recognise child care qualifications as equal with similar qualifications held by women and men working in other areas of local government.
Strong agreements and state awards have delivered equity to local government child care workers through skills based industry classifications, pay outcomes over and above legislated safety nets, training and career progression, workplace policies on safety and conditions, superannuation, paid parental leave, job security, long service leave and much more. This has set high standards for the private sector child care industry.
Local government child care employees have benefitted from the ASU's bargaining strength and we support the United Voice aim to advance rates of pay in the private sector.
The ASU will also take the opportunity to push for more solid community recognition of the role of local government child care workers.