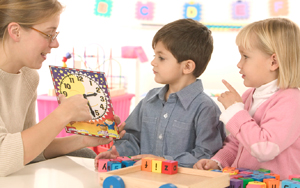 Overnight and when you weren't looking, the Liberal/National parties have released their child care policy which will alter the industry in many ways, reduce professional standards, provide less money to the sector, in particular by closing the Early Years Quality Fund (EYQF) and through no further funding commitment being made.
The attitude of the Liberals and Nationals on child care takes us backwards and will disadvantage children in child care as well as devalue the work of early childhood educators. Our children will also be significantly less prepared for school.
The Coalition child care policy flags a full Productivity Commission enquiry within the first 12 months of a Coalition Government with an emphasis on the needs of for-profit child care centres. Early years educators, child carers and many parents should know that pre-school education, value of qualifications and larger ratios across the sector, as well as the NQF, will be scrutinised.
The policy is focussed on reducing costs for business at the expense of quality early education services for our children.
The ASU draws particular attention to the following areas now up for grabs in the Coalition policy:
Staffing ratios
The significance of the impact to services has been taken into account by Labor. A long period of transition to enable required ratios has seen many centres (many of them local government operations) move towards greater quality education and care. The Coalition seeks to remove ratios at the expense of quality.
Qualification requirements for child care workers
The Coalition will pause the requirement that all staff should be qualified to care for your children.
Greater industry advice and consultation
The ASU has succeeded in becoming part of the PM's roundtable discussions on child care. We also sit on industry skills councils and meet with all stakeholders of the industry facilitated by DEEWR. The Coalition proposes an industry advisory council for employer groups – a new layer of government locking your Union out of the discussion about policy for the industry.
Outside school hours care
A Coalition Government will not honour the $450 million dollars funding for the sector that the Rudd Labor Government has implemented, leaving it to the private sector to fill the gap. Funding under a Labor Government is allowing schools to extend or to establish programs.
Review the Early Years Quality Fund (EYQF)
If elected, the Coalition will honour funds contracted from the EYQF but no further expenditure will be approved. Wages and salaries will stall because the Coalition has outright refused to further fund the improvement of remuneration and conditions of early childhood educators.
The Coalition policy presents a clear message that early childhood education and care should be a private for-profit service for those who can afford it. There is no commitment to extend funding. The Coalition policy is proposing to spread the existing funding more thinly across services we would like to see improved. This will only increase costs for centre based care.