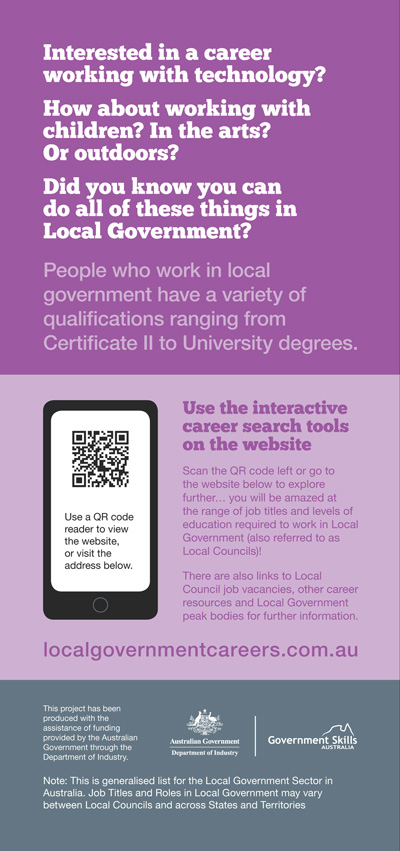 Government Skills Australia (GSA) is pleased to announce the launch of the online resource www.localgovernmentcareers.com.au.
Councils are exceptional places for passionate people to work because councils are passionate about their communities. Councils offer a diversity of career options, job satisfaction, high regard for safety, flexible workplaces and job security because they want their communities to have the best service possible.
The user friendly website has been designed to:
Demonstrate the diversity of career options and roles within the local government sector and the multiple entry points for employment.
Demonstrate career pathway opportunities available to those working in local government.
Demonstrate that working in local government can lead to career opportunities in other industry sectors.
In conjunction with the website a poster has been produced that will aid career advisors in demonstrating the diversity of careers in local government.
These resources have been developed with the assistance of local government agencies and representative bodies. The local government career website provides school leavers, university graduates and existing local government employees a platform to discover the roles that are available via existing interests and skills. It can also be an advisory tool for learning development / human resources advisors within local government and registered training providers to assist in the development of a more highly skilled local government workforce.
Media contact: Matt Lees, Marketing and Communications Manager, 08 8100 7413 m.lees@govskills.com.au