The ASU recently lodged a submission into the Senate Inquiry examining the Abbott Government's proposed income test freeze for the calculation of Child Care Benefit. We are objecting to the freeze on the basis that it will adversely affect the vulnerable most, including low income families and those with children at risk, along with workforce participation, a widely acknowledged factor in economic health. We call on the Government to reassess its spending priorities and not undermine child care funding, one of the engines of the economy.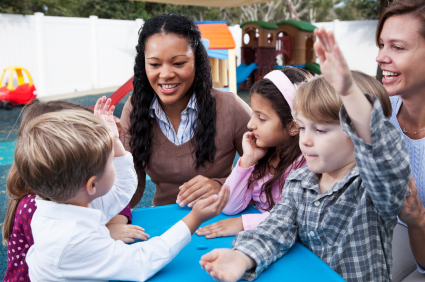 Freezing the Child Care Benefit income thresholds for three years will effectively reduce the amount of benefits received by some low and middle-income families and reduce the number of families which receive the benefits.
"We are concerned that the legislation, if passed, will have a number of negative consequences for stakeholders in the sector, from the children and their families, right through to our members who provide valued early childhood education and care," said ASU Assistant National Secretary Greg McLean.
The Consumer Price Index (CPI) provides a mechanism for the Child Care Benefit to increase over time, taking into account cost of living pressures. However, parents have reported that even these increases do not keep pace with costs. To freeze this modest mechanism will result in hardship for too many families, especially in the context of other Budget cuts and charges being threatened by the Abbott Government.
Parents increasingly rely on early childhood education and care to support their ability to go to work. Adverse effects of declining parental workforce participation rates, particularly women's participation rates, can include worsening poverty, family instability, skills shortages and broader economic stagnation.
For those dropping out of the workforce, it can be harder to re-enter the labour market at a later time. This is particularly the case if skills attrition results from long periods of unemployment. This can have devastating consequences for families. In addition, it can have negative social and economic implications for the broader society and may result in longer term calls on the public purse.
The children themselves are impacted by the loss of quality early childhood education and care, particularly those from disadvantaged backgrounds who have much to gain from quality programs that bring wider community benefits as well. Benefits of quality services now at risk from the Budget freeze include:
Early identification of children at risk
Improved cognitive, emotional and physical development
Improved school attendance
Improved socialisation with other children.
Better performance at school
Of course, child care centre staff deliver these outcomes. With less funding available, highly qualified staff employed at beneficial staff to child ratios (both key factors in quality services) face uncertainty. Indeed in some regions, child care centres already face significant problems in trying to attract qualified staff. Child care workers need to know that their work will be valued into the future and that they will receive adequate remuneration and employment certainty in order to be attracted to the industry and be encouraged to stay.
"The ASU urges the Government to re-examine its spending and saving priorities to ensure they have the balance right to support Australians into work – Government assistance through child care funding is one of the most important elements of that equation," concluded Greg McLean.
More information
Visit the Inquiry website for more information: Senate Education and Employment Legislation Committee into Family Assistance Legislation Amendment (Child Care Measures) Bill (No. 2) 2014.
The ASU submission can be found here.