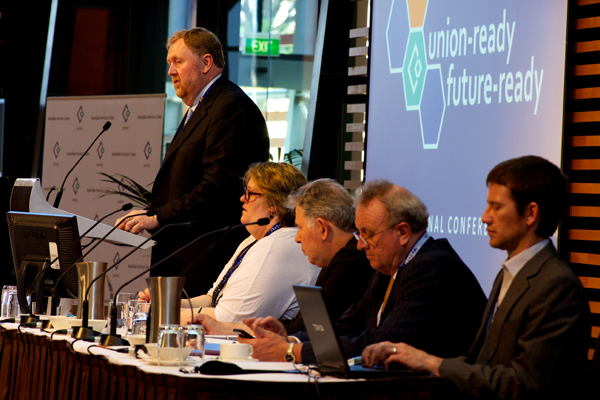 Today in Adelaide the biennial meeting of the Australian Services Union National Conference was convened. National Secretary David Smith delivered the opening address of the Conference, reflecting on achievements of the Union since the last Conference in 2010 and raised the future challenges we will face.
After acknowledging the traditional owners of the land upon which the Conference is meeting, and also acknowledging the previous National Secretary and National President who retired after the last Conference in 2010, David Smith said he was proud to report that the Union is continuing to meet its key objectives:
Membership has grown;
We continue to lead in our industries and act as a champion for them; and
Celebrating significant victories including in the historic Equal Pay Case for social and community services members.
In relation to the Equal Pay Case and its supporting campaign "Pay Up", David Smith said, "Through the Pay Up campaign the ASU has come of age with a successfully coordinated national campaign."
David also recognised the tireless work of Assistant National Secretary Linda White in coordinating the campaign.
Future challenges that the ASU will face include the normal attacks from bad employers but also fundamental changes in the kind of work that is performed and where it is performed. Technology is changing the nature of the traditional workplace once again. How will we organise workers when we don't have a traditional workplace?
Sessions during the National Conference meeting will consider all these issues.
David Smith also took the opportunity to confirm that the ASU has zero tolerance for maladministration within the Union organisation and misuse of members' funds. Our members can have confidence in the way the ASU manages their dues.
In closing, David extended thanks to our generous Conference sponsors and to our delegates for taking the time to attend. Without their efforts, we could not be the great union that we are!
More information can be found on our webpage for National Conference 2012.