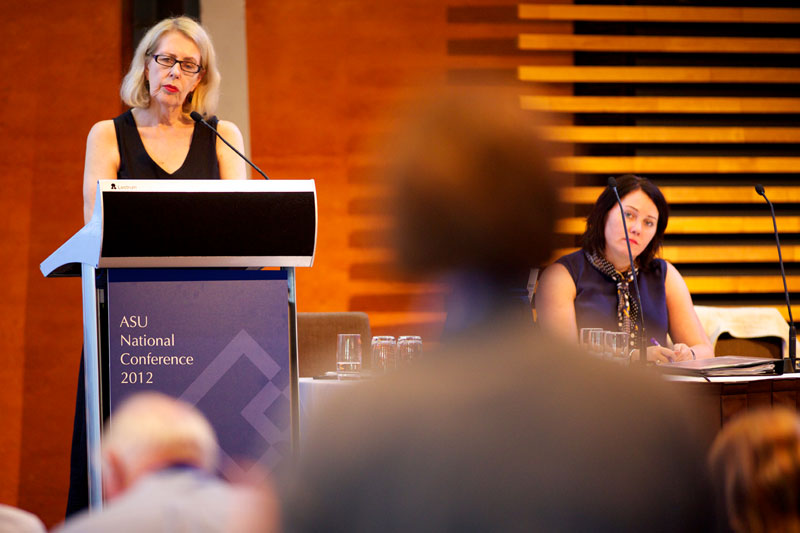 ASU National Conference key note speaker Dr Anne Summers addressed delegates about the 40 year history of the gender equality project in Australia. After outlining some key issues and examples, Dr Summers questioned concepts of progress and success in relation to the project.
Despite a long history of implementing measures supporting women in Australia to achieve equality, dating from the election of the Whitlam Government in 1972, Dr Anne Summers argued that we are far from attaining the goal.
Dr Summers summarised the history and statistics showing leaps forwards and backwards over 40 years but she suggested that rather than being an indicator of success in the equality project, the election of Australia's first female Prime Minister in Julia Gillard, has revealed how far from our goal we are.
The vitriolic and sexually intimidating references to Julia Gillard in the media and community show that there is far more to do. Dr Summers argued that we have been confusing progress with success and for those interested in achieving gender equality in Australia, a new approach is needed.
Dr Summers urged a reassessment of what success in the equality project would look like and how to get there.
Her compelling presentation to ASU National Conference delegates was both eye opening and a call to address the critical issue of gender equality in Australia.
Outline of Dr Summers presentation
Dr Summers has been in the media widely in the last few months following her speech to the University of Newcastle annual human rights lecture, "Her Rights at Work" (note: this is a link to the R-rated version, you can choose read the "vanilla version" instead which is without the accompanying images and video links). The speech outlined the extensive and extreme gender based attacks on Prime Minister Julia Gillard and warns about how the current climate of debate around sexism and misogyny affects us all.
With more than 100,000 views of her speech and counting, Dr Summers said no one was more amazed than her at the reception it has received. She reflected that many Australians seem to have difficulty in accepting women in major leadership positions, but that Prime Minister Gillard has been the victim of particularly vitriolic attacks. Australian male leaders in high office have not had to deal with the sexual intimidation directed at the Prime Minister we have witnessed since the last federal election in 2010.
On the positive side, the last few months have seen the opening up of the debate about feminism, sexism, misogyny and gender relations. Julia Gillard's sexism and misogyny speech to the Australian Parliament lifted the issue to prominence. Despite being dismissed and even ridiculed by pundits, it struck a chord with women and men, and even children. There was also an extraordinary impact around the world with heads of state relaying to the Prime Minister how powerful they thought it was.
After setting this scene of the current state of gender relations in Australia, Dr Summers turned to outlining the inequality that still exists between women and men on a number of dimensions. She pointed out that statistics reveal that being a woman in Australia still results in a $1,000,000 penalty on earnings, when compared to men.
Dr Summers then turned to the history of the gender equality project starting 40 years ago with the election of the Whitlam Government. She referred to the Whitlam Government as our first modern government, which had an explicit goal of gender equality. Despite its brief time in power, the Whitlam Government introduced various measures to improve women's situation including the equal minimum wage, government funded child care and the supporting mothers' benefit.
Successive federal governments added or amended further measures until the equality project stalled and in some areas went backwards, Dr Summers contended, with the Howard Federal Government. This included the abolition of women's bureaus, the axing of departmental desks for women and reductions in the amount of child care assistance.
Despite the current Labor Federal Government redressing many areas of women's measures since 2007, Dr Summers asked have we succeeded with the equality project?
Australia ranks as number one in women's educational attainment but women's labour force participation is ranked down in the 40s. Dr Summers pointed out that if women's labour force participation matched that of men, Australia's GDP would grow by 13%. Retirement earnings and superannuation are also not comparable to men's.
"Quite frankly it's a scary situation!" said Dr Summers.
Dr Summers then went on to question how we approached the equality project. Have we confused progress with success? They are not the same. Even having a female PM is not a mark of achievement, but has actually revealed how far we have to go with the hostility it has triggered.
There is a deep distrust, dislike and even hatred of women, contended Dr Summers. Measuring progress is useful, but not enough. She urged the National Conference delegates that we need have a clear idea of what success looks like and work to make it happen.
"We have to change the conversation. After 40 years of this not working, we need to try something else," Dr Summers concluded.
Dr Anne Summers has released a new online magazine "Anne Summers Reports" – click here to subscribe, it's free
Dr Summers recommended on the topic of violence against women, this speech by Victorian Police Commissioner Ken Lay made at a White Ribbon Day Breakfast