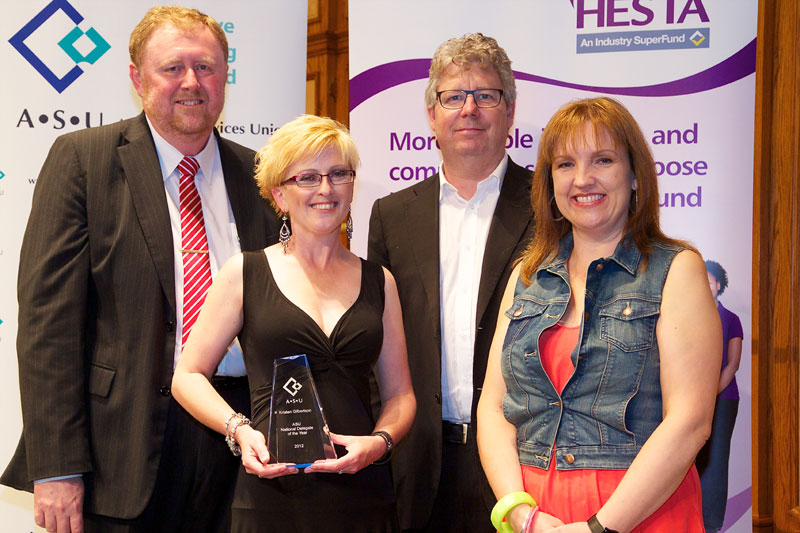 The ASU National Delegate of the Year awards are one of the very special events held at each meeting of National Conference. The 2012 award was announced by National Secretary David Smith at the ASU National Conference Dinner last night at Adelaide Town Hall. It was awarded to Kristen Gilbertson of the South Australian & Northern Territory Branch for her work as a delegate at Alexandrina Council.
The ASU congratulates Kristen for her win! Not only has Kristen taken on the role of workplace delegate at her Council, she also holds the position of OHS representative. Her activism is not limited to the workplace, with a history of participation on local sporting committees and associations, Kristen is obviously a very community minded individual.
The ASU thanks Kristen for her distinguished work as a delegate. As part of her award, Kristen received a certificate and trophy which were presented to her by ACTU Secretary Dave Oliver, and gifts from our sponsor of the Awards, Government Skills Australia.
We also congratulate all the nominees, every one of which has contributed significantly to the ASU's ability to do our "union work". The nominees received certificates and gifts.
Without workplace delegates, unions' ability to represent members would be undermined. We encourage our members to consider becoming delegates as this level of activism in the union plays a crucial role in our ability to protect and advance our rights at work.
Delegate of the Year nominees
Zoé Kennedy, C&SQ C&A Branch, Mater Hospital Brisbane
Anne Watt, QLD (S&NA) Branch, Gold Coast City Council
David Scott, NSW US Branch, Upper Lachlan Shire Council
Maree McDermott, NSW&ACT (Services) Branch, Nepean Community & Neighbourhood Services
Michael Vallis, VIC&TAS A&S Branch, Banyule City Council
Carolyn Cassar, VIC PS Branch, Jetstar
Andy White, WA Branch, City of Greater Geraldton
Kristen Gilbertson, SA&NT Branch, Alexandrina Council
You can find detailed profiles for all the nominees on our dedicated National Conference 2012 webpage.