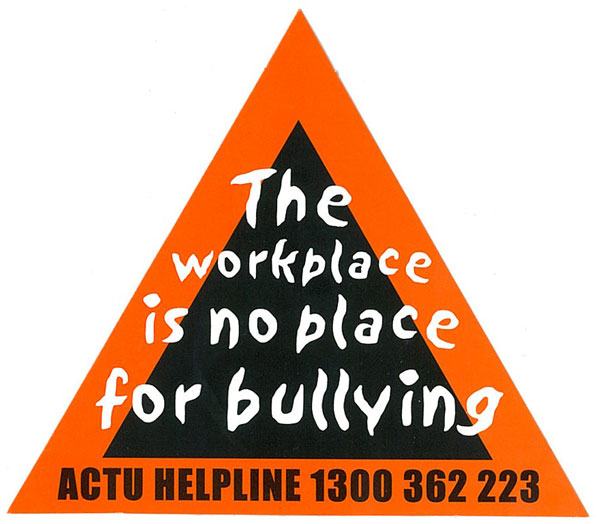 Changes to workplace laws that recently passed the Parliament will make it easier, faster and cheaper for victims of bullying at work to have it stopped. Unfortunately, these provisions do not take effect until 1 January 2014. It is not known if there is an Abbott Government after the next election whether it will seek to undo these changes to the Act.
The ASU takes workplace bullying very seriously.
In 2012 we lodged submissions with the Federal Government's House of Representatives Standing Committee on Education and Employment Inquiry into Workplace Bullying, with two of our Branches (SA/NT and the C&SQ C&A Branches) sending representatives to appear at the hearings (you can download the ASU submission below).
The ASU argued that bullying is under-reported (often because victims are fearful of reprisals) and yet research indicates it is widespread. A Productivity Commission report from 2010 estimated that workplace bullying can be costing the economy between $6 billion to $36 billion each year.
Our submission also recognised the link between bullying and work intensification with the onward march of technology:
"The ASU has always recognised workplace bullying but with modern computer/email/mobile phone technology pushing 24/7 work cycles, fragile organisational structures, insecure employment, contracting out and downsizing; bullying has become insidious and difficult to address in isolation."
The ASU's main concern with supporting the introduction of workplace bullying provisions into the Fair Work Act was to stop the pervasive occurrences of bullying in Australian workplaces before they cause serious and/or irreversible damage to employees. As the Federal Government's Inquiry found in its report "Workplace Bullying ―We just want it to stop":
"... workplace bullying often results in significant negative consequences for an individual's health and wellbeing. The negative effects of workplace bullying can manifest both mentally and physically, including depression, anxiety, sleep disturbances, nausea and musculoskeletal complaints and muscle tension."
"Recognising the central place of work in our lives, the report goes on to note that workplace bullying 'can have a profound effect on all aspects of a person's health as well as their work and family life, undermining self-esteem, productivity and morale'."
New provisions to tackle workplace bullying
From 1 January 2014, employees will be able to lodge an application with the Fair Work Commission (FWC) directly related to bullying. The FWC will have the power to issue an order to the alleged bully or bullies, to put a stop to the disputed behaviour. Additionally, the FWC is obliged to act on the application within 14 days.
The ASU believes this is an enormous step forward for employees as it means that the alleged bullying behaviour can be ended quickly, hopefully before irreversible damage is done to the victim. Under the OHS and criminal laws, this kind of speedy action has not been available.
With your union's assistance, having bullying stopped can now be dealt with easily, cheaply and fast, with no need to go through a lawyer and the criminal courts, and the new provisions prescribe speedy action.
Of course, with a federal election imminent and the fact that the Coalition MPs voted against the new bullying provisions in the Fair Work Act, we don't know if the changes will be reversed.
It should be noted that the new provisions are all about ending bullying behaviour fast and are not about compensation for damages, etc. Other laws such at criminal law, common law, trade practices law, occupational health & safety regulations, etc, will all still be open avenues for pursuing workplace bullies, depending on the circumstances.
What constitutes bullying?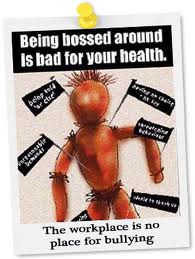 Firm definitions are hard to come by, so if you suspect you are a victim of bullying, you should contact your union Branch right away for assistance.
The new provisions say:
(1) A worker is bullied at work if:
(a) while the worker is at work in a constitutionally covered business:
(i) an individual; or
(ii) a group of individuals
repeatedly behaves unreasonably towards the worker, or a group of workers of which the worker is a member; and
(b) that behaviour creates a risk to health and safety.
(2) to avoid doubt, subsection (1) does not apply to reasonable management action carried out in a reasonable manner.
In the real world, typical examples may include repeated instances of:
Verbal abuse
Intimidation
Harassment
Physical aggression
Violent behaviour
Exclusion from events/meetings and information usually required in your role
Rumour mongering and undermining
Threats against your workplace rights
Unreasonable targets
Etc.
As our feature occupational health and safety campaign some years ago said eloquently: "Being bossed around is bad for your health – the workplace is no place for bullying".
Further information
ASU submission to Australian Government, House of Representatives Standing Committee on Education and Employment Inquiry into workplace 2012 Workplace Bullying Inquiry, 4 July 2012 (names of employers etc have been redacted).
ASU news: ASU welcomes changes to bullying laws and increased worker protections, 12 February 2013