The recent report of the Productivity Commission Inquiry that identified community services (including to the most vulnerable Australians and Indigenous people in remote areas) along with public hospitals, dental services, grants for family services, social housing and palliative care, as areas to introduce competition through privatisation, has reignited the debate around privatisation and how it directly impacts communities.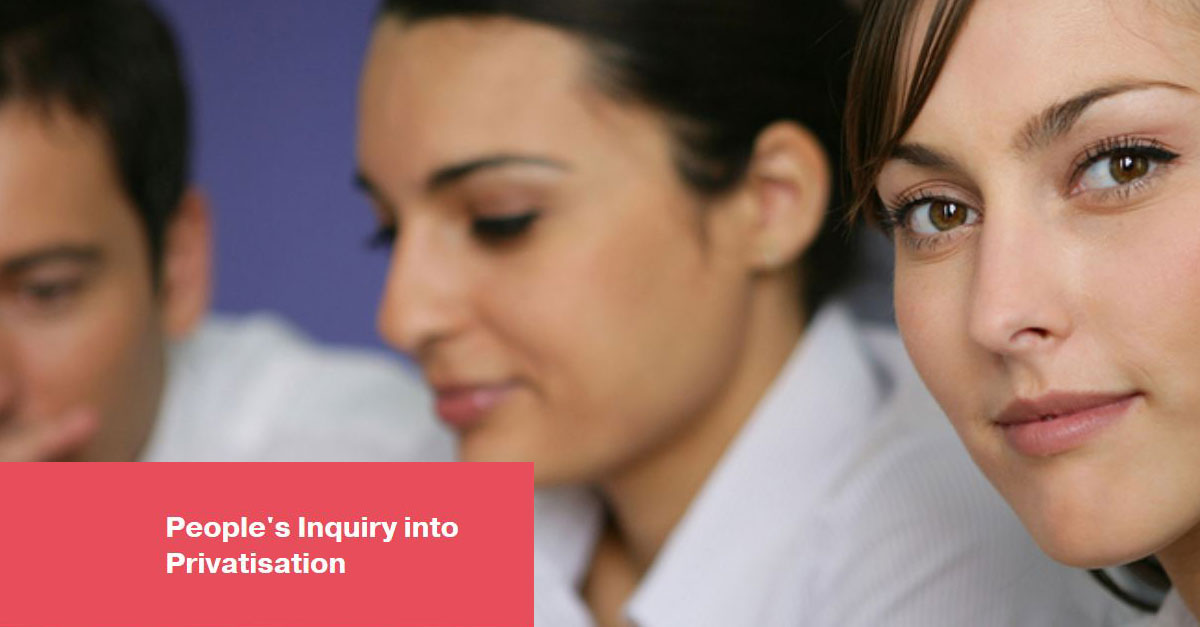 In contrast to the Federal Government's top down approach, the People's Inquiry into Privatisation has been giving the public an opportunity to explain how the privatisation of essential public assets and services has affected them, their families and local communities.
The People's Inquiry into Privatisation next visits the Latrobe Valley tomorrow, Wednesday 19 October 2016. Community members are invited to present experiences of privatisation and offer views on better ways to run our public services to an independent panel during the public hearing, to be held at the Comfort Inn in Traralgon, 5601 Princes Hwy, from 4.00 to 7.00pm.
The effects of energy privatisation over the last two decades, along with the threat of privatisation of community and health services are likely to be a strong focus at the Latrobe Valley hearing, which is one of 12 public hearings making their way across the country during September and October. Hearing details and written submissions received from organisations and individuals are viewable on the website: www.peoplesinquiry.org.au.
The People's Inquiry aims to encourage a broader national conversation around privatisation and develop an alternate vision for Australia's public services: one that serves the needs of the community and makes them accessible to everyone who needs them, not just those who can afford them. We don't want to see a race to the bottom with both quality of services and employment practices undermined.
The Inquiry's Chair, David Hetherington, states, "This is a rare opportunity for an alternative look at privatisation, from the perspective of people and communities, rather than through the cost minimisation prism frequently adopted by governments."
Concerns around equity of access and delivering social good will be addressed to ultimately determine if privatisation is in the public interest or simply a way for governments to bolster short-term state and federal budgets. Key considerations include alternatives to the privatisation models of service delivery by for-profit businesses, user choice, voucher systems, public-private partnerships, commissioning, social impact investment and mutualisation and the role of government in service delivery.
The Inquiry is particularly interested to hear from the community about the impact of privatisation on the quality, efficacy, capacity and capability of public service delivery; transparency in the provisions of contracts, supply chain details, company ownership, employment and tax practices; wages and conditions of 'privatised' workers; costs to government, compared with publicly-owned services; and relevant international human rights and labour standards.
Information presented during the public hearings will assist the independent panel in its reporting of issues relating to the sale of public assets and outsourcing of service delivery.
To coordinate the inquiry, PSI has united with community organisations and public sector unions representing workers from health, social and community services, energy and power, as well as federal, state and local government workers.
The People's Inquiry into Privatisation commenced hearings in Newcastle on 5 September and will conclude in Canberra on 27 October, having travelled to various locations all around the country.
See the website for more details and submissions: www.peoplesinquiry.org.au
MEDIA CONTACTS
NSW Nurses and Midwives' Association (NSWNMA), Danielle Mahoney 0488 015 317
Public Services International (PSI): Michael Whaites 0414 550 386
Per Capita: David Hetherington 0413 863 068
Australian Services Union (ASU) & United Services Union (USU): Brigid Marasco 0409 192 070
Electrical Trades Union (ETU): Lachlan Williams 0447 682 027
Community and Public Sector Union (CPSU): Federal Govt - Simon Frazer 0409 493 290
Community and Public Sector Union (CPSU): State Govts - Julian Kennelly 0417 541 789