The ASU lodged a submission to the ABCC Senate Inquiry into the Federal Bill to re-establish the Australian Building and Construction Commission (ABCC). It is not widely known but the ABCC also touches large numbers of ASU members, so our concerns are very directly about advocating for our members' rights. However, even if the ABCC was of no relevance to our members, we would still be expressing our alarm at the creation of such a coercive body which undermines the rights of individuals based solely on what kind of work they do.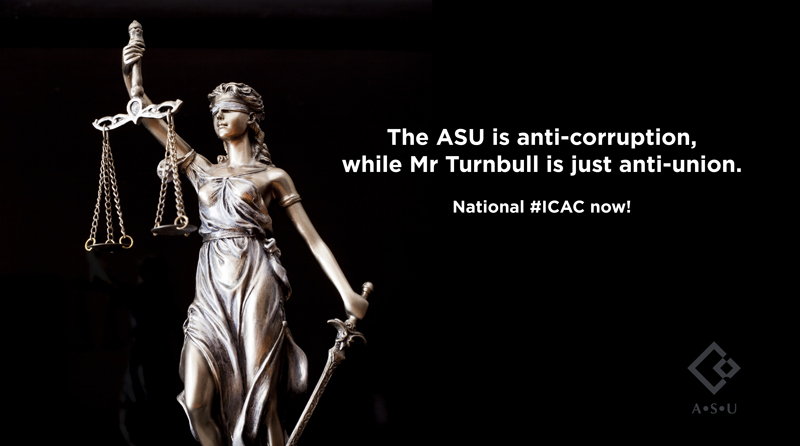 The ASU values the Australian democratic framework in which our Union operates, including the separation of powers of the Parliament, the Executive and the Judiciary. We support effective and fair anti-corruption measures. However, we don't believe the ABCC fulfils Australian principles of justice and equality.
We have significant concerns about special laws and a special inspectorate for the building and construction industry (drawing in our local government, energy and water sector members) which may work unfairly against workers and effectively amounts to an expensive witch-hunt.
The Government's apparent focus on the removal of workers' rights is alarming.
Whilst it is important to deal with corrupt behaviour (including that which is conducted by employers and other players within the building industry and outside it, too) we are of the view that all workers deserve the right to equality under the law and access to the same protections as all other Australians going about their business.
The ASU also argues there are already alternative ways to deal with issues of corruption and illegal activities without recourse to the need for wasteful expenditure and the diverting of expertise toward the re-establishment of ABCC.
Download the ASU submission here: Senate Inquiry into Building and Construction Industry Bills (ABCC)
We also encourage you to read the submission of the Law Council of Australia, Re-establishment of the Australian Building and Construction CommissionRe-establishment of the Australian Building and Construction Commission (19 February 2016), which provides a great amount of detail in relation to how the ABCC contravenes the rights of individuals against the public interest. Our animation captures just a few of the rights removed by the ABCC: