On International Public Service Day, just about the only public servants to be rewarded under the Malcolm Turnbull Federal Government are politicians. They will receive a 2% pay increase on 1 July along with a tax cut with the removal of the high earners' levy. For Mr Turnbull, that's an annual increase of approximately $17,000.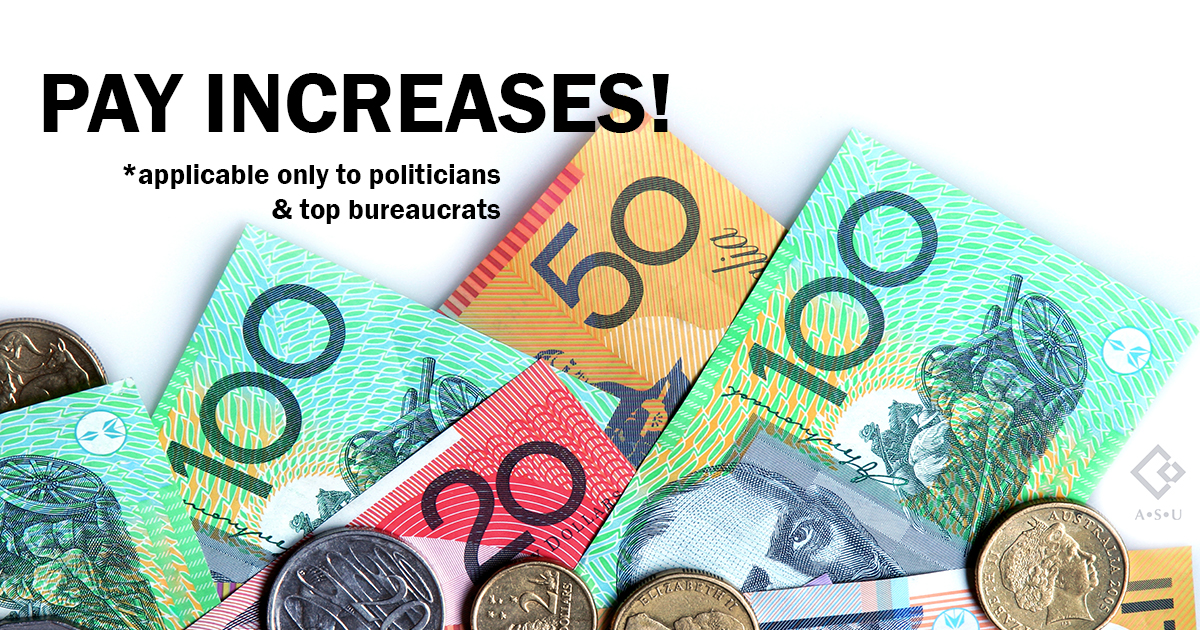 ASU members and other federal public servants have been fighting for a new enterprise bargaining agreement for over three years, so politicians getting pay increases (and tax reductions) while their own workforce continues to mark time is particularly galling news to wake up to on Public Service Day.
Although, politicians pay rises are determined by the independent Remuneration Tribunal, which handed down its latest decision yesterday, perhaps Mr Turnbull and his government MPs should consider declining their increase until such time as staff receive one, too?
That might focus the Government's mind on coming to a suitable compromise over a new agreement with staff!
ACTU media release: PM must protect the pay of everyday Australians before awarding himself a massive pay rise
On July 1, the same day as 700,000 low paid workers will have their penalty rates cut, Prime Minister Malcolm Turnbull will oversee pay rises for politicians of up to $17,000.
At the same time, public sector workers have been fighting for a pay rise from this government for more than three and half years.
Since 2012, federal politicians have enjoyed an average yearly pay increase of 6.8 per cent, dwarfing the national average of 2.6 per cent over the same period.
On July 1 this year, they will get a two per cent wage rise and a two per cent tax cut, giving them wage rises ranging from $4,000 to almost $20,000.
Prime Minister Malcolm Turnbull's pay increase this year is $16,788, equivalent to almost half the annual income of a worker on the minimum wage, taking his salary to $533,738.
Employment Minister Michaelia Cash will bask in a $9,821 raise, taking her annual salary to $352, 821.
And Treasurer Scott Morrison will luxuriate in a $12,409 wage rise, which brings his salary to $420,409.
Quotes attributable to Australian Council of Trade Unions (ACTU) President Ged Kearney:
"Nobody begrudges anyone getting a pay rise, but when the PM awards himself and his colleagues a massive pay rise while overseeing a pay cut for the lowest paid people in this country, Australians have a right to be angry."
"The Prime Minister will get to enjoy the fruits of double dipping into the public coffers, with a wage rise and a tax cut, while working people are struggling to survive."
"To justify this pay increase the Government must stop the cuts to penalty rates before they take effect on July 1 and finalise the bargaining with public sector workers by awarding decent pay rises and securing their conditions."
"We need to change the system so that politicians act in the interest of working Australians who are scraping by on wage increases which currently are not even keeping pace with inflation."
"The hypocrisy of this situation is not lost on the voting public. Malcom Turnbull proves once again he has completely lost touch with everyday Australians struggling to make ends meet, struggling to find enough work, struggling to find secure work and a guaranteed income they can rely upon."
ENDS
Media contact: ACTU Media 03 9664 7315 or Peter Green 0400 764 200