On 1 December 2015 the third annual pay increase for workers in the social, community and disability sector will be delivered that arises from the ASU's victory in the Equal Pay Case in 2012. We encourage workers in the sector to celebrate this hard won increase by gathering in your workplaces during the week around 1 December, but also to think about and discuss the other challenges facing the sector.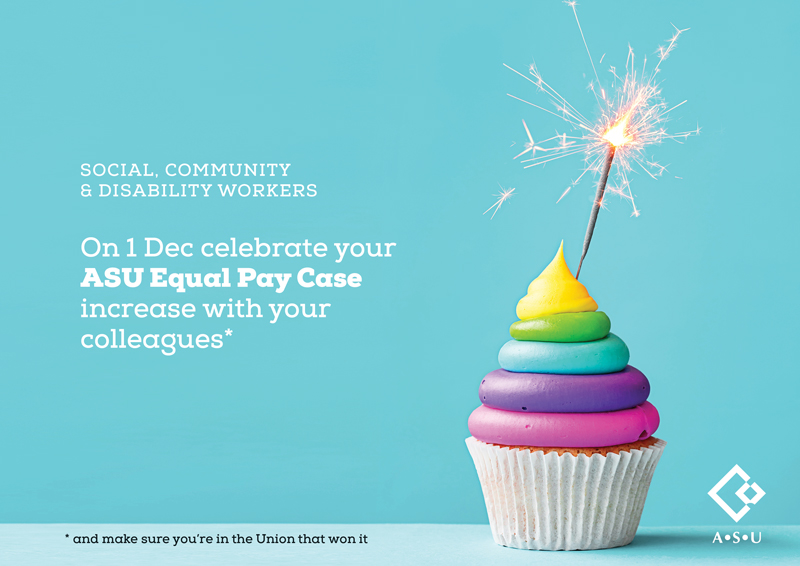 On 1 February 2012 social, community and disability services workers won long awaited pay rises in the historic decision by Fair Work Australia in the ASU's Equal Pay Case. The case, which began in March 2010, was initiated by the ASU to address the gender-based undervaluation of the community services sector and deliver pay increases that recognised the work undertaken. It was the culmination of years of research, preparation and ultimately, the commitment of union members in the sector to fight for equal pay.
The Court decision recommended pay rises be phased in over a period of eight years to mitigate their impact and ensure they were deliverable. The increase this year is the third in that series of eight increases coming your way, finishing up in 2020. These increases are in addition to minimum wage increases that are awarded on 1 July each year.
Although the Equal Pay Case was a significant victory which should not be understated (it was the first equal pay case victory for any sector in 30 years), there are still many challenges facing social, community & disability workers.
This year the ASU has commenced a new campaign for disability sector workers to help address issues arising from the roll out of the NDIS. Workers want to make the NDIS the best it can be, but we argue that can only be achieved if employment matters are appropriately addressed.
"A quality, professional & sustainable workforce is essential to achieving the goal of delivering real choice and control for people with disabilities and respecting their rights."
We encourage you to be part of our campaign and you will find information and resources on our ASU-NDIS campaign webpage.
So, while we encourage you to celebrate your 1 December 2015 ASU Pay Case increase, we also urge you to remember the outstanding commitment and solidarity of union members in the sector who worked so hard to make it a reality, and commit to our current and future campaigns to ensure the sector values and rewards its workers.
You can read our story from 2012 announcing the Equal Pay Case victory: "Equal Pay Day arrives at last for community workers", 1 February 2012