On Thursday 2 December 2015 your ASU representatives met with Mission Providence management to kick off negotiations for the new Mission Providence enterprise agreement.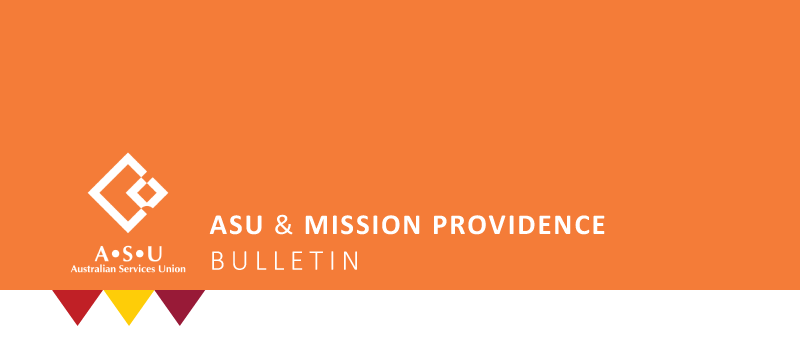 Management tabled their claims in the form of a whole new proposed agreement. We will need to do detailed analysis to identify all of the changes, however, the main proposals that Mission Providence has made are:
Making it easier for management to cancel RDO arrangements;
Pay increases:

2% when the agreement commences - note, even though employees were due a pay increase in July 2015 there is presently no back pay on the table;
2.5% in July 2016
2.5% in July 2017

A new classification structure, under which employees can only move to pay point 3 of their pay grade if the exceed expectations in their performance review;
A clause that Mission Providence can direct an employee to take their annual leave if they have 6 weeks leave accrued (currently they cannot direct you until you have 8 weeks accrued)
Removing salary continuance insurance for employees.
ASU representatives tabled the ASU log of claims and discussed the improvements we wanted to see in the new agreement, in particular:
No changes from existing conditions unless they are improved;
No changes to RDOs
Annual pay increases that assist employees to make up some of the deficit in their take home pay from the loss of salary packaging;
Workload controls to make sure that your workload can be met in ordinary working hours.
We will be coming to visit ASU members with more detail of management's proposed changes and to get your feedback throughout January. Our next meeting with management is scheduled for 2 and 3 February 2016.
Now is the time to join the ASU. We will only be consulting members and taking their feedback to the negotiating table. You can join online here: www.asu.asn.au/asujoin
If you have any questions, contact your local ASU organiser (download the full bulletin below for details).

Mission Providence Bulletin, 2 December 2015