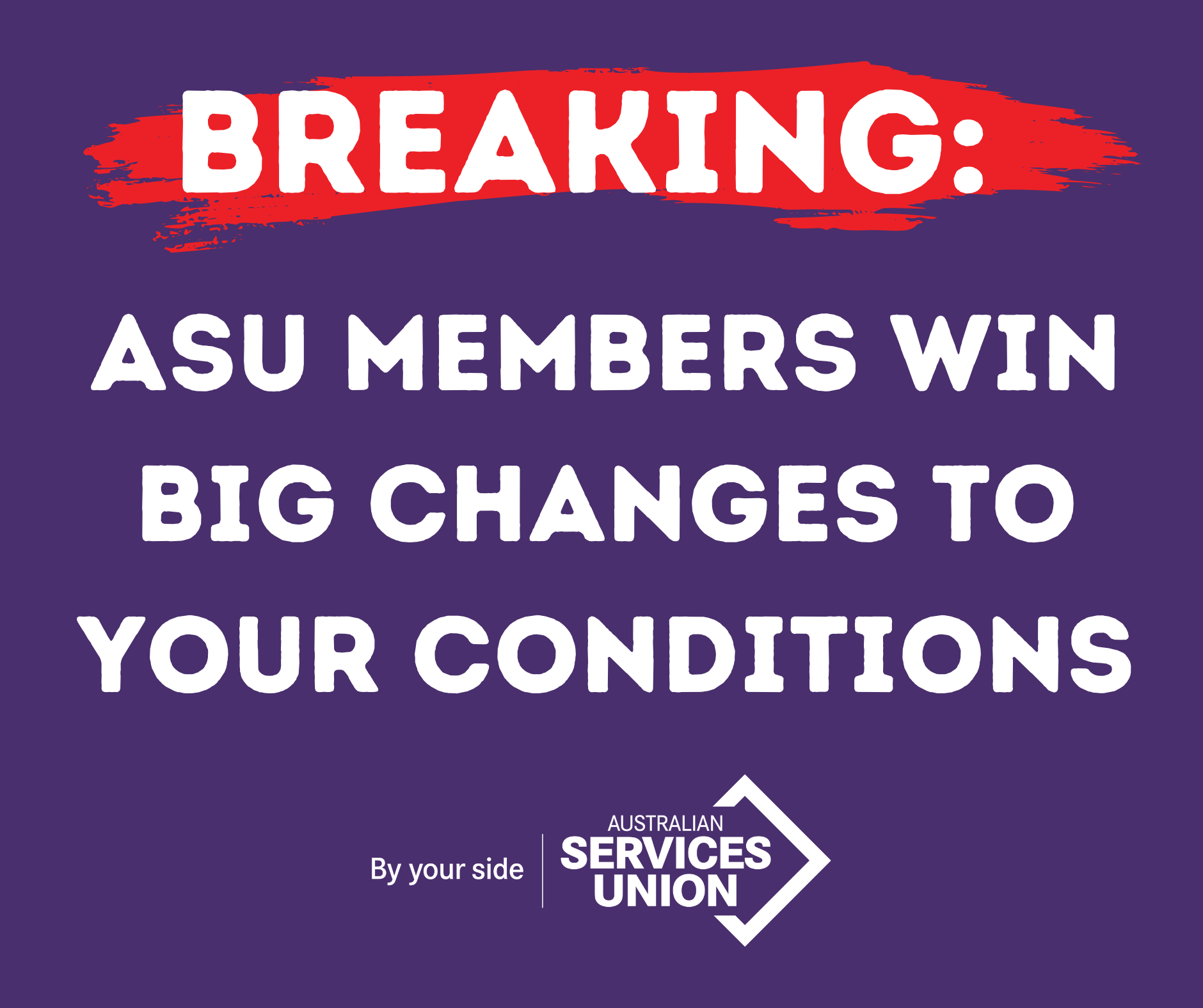 On Tuesday, 4 May the Fair Work Commission issued a provisional decision in its review of the minimum terms and conditions that apply to workers in the disability and community services industry, the SCHDS Award.
It's taken 5 years of work by your union, but it's good to see the Commission is listening to disability and community services workers.
This decision means that there will be big changes coming in your industry.
The Commission has agreed with the ASU that:
Travel time should be paid time.

There should be a 2-hour hour minimum shift for disability workers (including each part of a broken shift).

There can only be 2 breaks in a broken shift (i.e. 3 2-hour periods).

Workers who work a broken shift should be paid an allowance.

Additional hours should be voluntary.

Part-timers should be able to ask their employer to increase their contract hours if they regularly work more than their contract hours over 12 months.

Employee should be able to swap shifts between themselves.
This decision applies to all workers covered by the Social, Community, Home Care and Disability Services Industry Award.
Unfortunately, the Commission agreed with employers that there should be a 'client cancellation clause' for disability workers. This means if a client cancels their shift, then the employer can cancel your shift. If they do that, they must pay you for your shift but they are allowed to roster you for 'make up time' within 6 weeks of the cancelled shift.
You can read the decision by clicking here.
What next?
These changes don't apply immediately. There is still more work to do to before the Fair Work Commission can finalise the changes to your award. Bad employers will try to persuade the Fair Work Commission to back away from their decision.
But the ASU will keep standing up for better rights, entitlements, pay and conditions for our social, community, and disability services members.
We won because of the hard work of ASU members. Imagine what we could win if all disability and community services were ASU members. Pass this important news to your colleagues who aren't in the ASU and ask them to join at www.asu.asn.au/asujoin
If you have any questions, contact your local ASU Branch:
| | | |
| --- | --- | --- |
| Branch | Contact | Contact Number |
| NSW/ACT Services | Angus McFarland | (02) 9310 4000 |
| VIC/TAS A&S | Leon Wiegard | (03) 9342 3400 |
| VIC PS | Matt Norrey | (03) 9342 3300 |
| QLD SNA | Justine Moran | (07) 3844 5300 |
| SA/NT | Daniel Spencer | (08) 8363 1322 |
| WA | Jill Hugo | (08) 9427 7777 |