Unions are pushing to give millions of Australian workers the right to access domestic violence leave. The ASU has been active and innovative on this front since 2010 when our Union won the first clause providing domestic violence leave in Australia.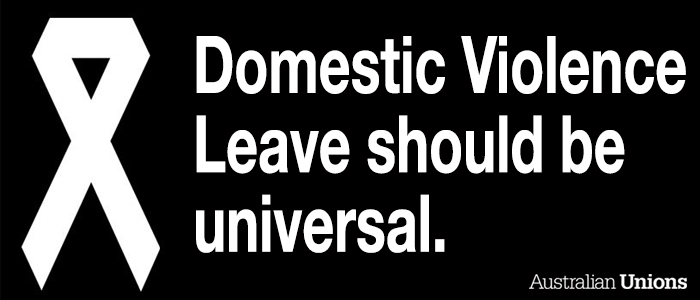 ACTU President Ged Kearney said paid domestic violence leave is designed to support victims of domestic violence and help them to keep their job.
"Having a job is critical if women are to leave a violent relationship. Domestic violence is not - and should not - be a private matter that is dealt with behind closed doors." Ms Kearney said.
The ACTU is making a claim to the Fair Work Commission for ten days paid domestic violence leave for permanent staff and ten days unpaid leave for casuals to be included in all awards.
>> Sign on to show your support for universal, paid domestic violence leave
Ms Kearney said one in three Australian women experience physical or sexual violence by an intimate partner.
"It is a systemic issue involving a wide range of social, economic and cultural factors that must be addressed in the public sphere – including workplaces," Ms Kearney said.
"Having access to domestic violence leave means victims have time to attend court appearances and related appointments, seek legal advice and make relocation arrangements.
"Evidence shows having an income gives women choice, stops them becoming trapped and isolated in violent and abusive relationships, and enables them to care for their children and provide them with a safe home environment."
ABS figures show that two thirds of the 400,000 plus people who experience domestic violence each year are in paid employment.
"Paid domestic violence leave recognises that employees experiencing domestic violence often have a history of broken employment, are on lower incomes in casual and part-time jobs and can least afford to take unpaid leave at a time when financial security is critical," said Ms Kearney.
The ACTU claim also includes the right to request a change in working arrangements, such as start and finish times.
>> Sign on to show your support for universal, paid domestic violence leave
"Stalking is one of the risk factors that can lead to a domestic violence victim being killed, and almost all women with violent partners who stalk them also experience harassment at their workplace," said Ms Kearney.
"Providing flexibility around working hours will help make the workplace safer for everyone."
Over 1.6 million employees now have access to paid domestic violence leave in union negotiated workplace agreements.
Ms Kearney said extending this to all modern awards will provide a safety net for millions of workers.
The ACTU claim for domestic violence leave will be lodged in the Fair Work Commission on Tuesday 28 October as part of the review of modern awards currently underway.
Media contact: Carla De Campo, 0410 579 575
ASU's achievements with domestic violence leave
The ASU was the first union in Australia to insert a family domestic leave clause in an enterprise agreement. In 2010 at the Surf Coast Shire Council in Victoria, the Victorian & Tasmanian A&S Branch of the Union placed a clause which gives victims of domestic violence 20 days paid leave and a comprehensive set of conditions, including individual support and counselling.
Over the last four years this clause has been picked up by other unions and employers to the point that now some 1.6 million workers are covered by a family violence clause in their award or agreement.
Recently the ASU clause has been recognised by the Fair Work Commission as one of a handful of Productive and/or Innovative clauses around the country.
>> Sign on to show your support for universal, paid domestic violence leave
Read more here
ACTU: Addressing domestic violence is everyone's responsibility, 28 October 2014
MEDIA: ACTU breaks ground on domestic violence with Fair Work Commission claim, by Jenna Price, Canberra Times, 27 October 2014
ASU's key role in bargaining for equality recognised in academic study, 10 February 2014
From the archive
ASU bargains for world's best family violence provision in council enterprise agreement, 27 September 2010
ASU to launch and celebrate Australian-first Family Violence clause at Surf Coast Shire, 15 October 2010
UPDATE - 23 December 2014
The Surf Coast Shire Council (Victoria) Family Violence leave clause was chosen by the Fair Work Commission as one of eight clauses showcased as being innovative or enhancing productivity in their report "Productivity and innovation in enterprise agreement clauses: an overview of literature, data and case studies at the workplace level" released on 23 December 2014.
The ASU led the country on this issue and you will find direct reference to the Surf Coast clause on pages 26 and 51-53 (you can also download the report here).
Meanwhile the ASU is actively engaged with the ACTU and other affiliates in advancing Family Violence leave clauses and Family Friendly Arrangements clauses as part of the ACTU common claims campaign. The idea is to place these types of clauses in Modern Awards as part of the Award Modernisation Review 2014 so that they are available to all workers, not just the ones who have won them via enterprise bargaining.