The Productivity Commission's draft recommendations would increase inequality, drive down wages, strip workers of many rights and create a less prosperous Australia – they must be rejected by the Federal Government. Unions have lodged their submissions with the Productivity Commission with the ASU strongly defending the rights of vulnerable workers and drawing attention to the disastrous prospect of "enterprise contracts" ever being introduced.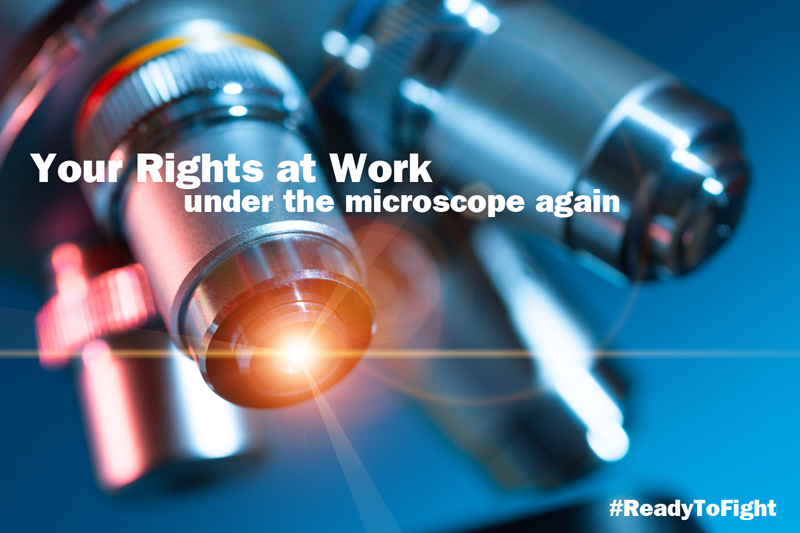 The ACTU lodged its submission to the Productivity Commission on Friday outlining strong opposition to the severity of the proposals.
Unions were pleased that Mr Turnbull recently said to workers that the Government would not be "threatening their conditions". However, that's exactly what the Productivity Commission is seeking to do and unions call on Mr Turnbull to prove his word and dismiss the recommendations.
The Abbott Government set up the Productivity Commission inquiry as a platform to attacks wages and conditions – and that's what they got.
The attack on penalty rates alone would result in a two-tiered workplace system with Sunday rates cut for thousands of Australians who work in restaurants, cafes and shops.
Cutting penalty rates for hospitality workers would be the beginnings of a slippery slope where more workers are ultimately expected to work weekend and public holiday shifts for little or no acknowledgement of the personal sacrifice associated with unsociable hours.
The Productivity Commission's call to slow down minimum wage growth would increase inequality in Australia, driving down wages for all.
And in the context of the 7-Eleven case of shocking exploitation of workers, the Commission's call to wind back Right of Entry provisions is troubling – unions need improved access to workplaces to stop this exploitation.
Just as troubling are the Productivity Commission's unjustified proposals to limit remedies for unfair dismissal and impose further barriers to pursuing claims.
The Productivity Commission's recommendations would shift the balance of power heavily in favour of employers and must be rejected by the Turnbull Government.
The Productivity Commission's recommendations include:
Cutting penalty rates.
Holding back the minimum wage.
Winding back Right of Entry provisions which assist in stamping out exploitation, abuse and safety issues.
Introducing enterprise contracts that disempower workers and force them to accept unfair conditions. Low paid workers will be worse off under these hidden 'take it or leave it' deals.
Making it easier for employers to sack staff.
Undermining the independence of the umpire whose role it is to set wages and make sure workplace agreements leave workers better off.
ASU's submission in response to the Draft Report
The ASU has also lodged a submission in response to the Productivity Commission's Draft Report, along with encouraging our members and supporters to make private submission via the Commission's website.
In particular, the ASU was appalled by recommendations in the Draft Report that would see minimum wages reduced or frozen when they have effectively been stagnating for some years. We are also seriously concerned about any attempts to undermine penalty rates, especially because they mostly affect workers at the lower end of the income scale.
In relation to the new "enterprise contract" suggested by the Productivity Commission, it ignores the realities of the workplace where individual workers who would be subject to them just don't have the bargaining power to avoid being exploited by them. To make them even worse, the prospect of no oversight of them before coming into effect by a neutral umpire makes these instruments potentially more damaging than anything that came under the dreaded WorkChoices regime under John Howard - they must be rejected out of hand!
Our key issues and recommendations were:
Minimum wage - We oppose any attempt to reduce or freeze the minimum wage. Minimum wages should remain set by an Expert Panel of the Fair Work Commission as per the current Fair Work Act.
Penalty rates – We oppose any attempt to reduce or deregulate penalty rates. In particular, we reject penalty rate cuts that will have a negative effect on women's earnings.
The enterprise contract - The concept of the Enterprise Contract should be scrapped. We oppose the introduction of a new "no disadvantage test" and believe the current "better off overall test" should remain as per the current Fair Work Act.
Unfair dismissal - Unfair dismissal arrangements should remain unchanged as per the current Fair Work Act. Further an unfair dismissal applicant should have access to a face-to-face conciliation where the applicant believes that this will result in a greater likelihood of the matter being resolved at the conciliation stage.
National Employment Standards - The Fair Work Act should be amended to allow employees to access dispute settling procedures about the refusal of flexible work arrangements on "reasonable business grounds".
Enterprise bargaining - The current "better off overall test" should remain as per the current Fair Work Act.
Enterprise bargaining - The current Fair Work Act establishes a clear set of rules and obligations in regards to enterprise bargaining. This should remain unchanged.
Industrial disputes & right of entry - Employers should be required to give three working days' notice to bargaining representatives and employees of any proposed employer response action.
Alternative forms of employment - Unions should be able to bargain about job security through the utilisation of terms that restrict the engagement of independent contractors, labour hire and casual workers
Sham contracting - The Fair Work Act should be amended to strengthen the sham contracting clause and provide a clearer definition of a genuine independent contracting arrangement.
Domestic & family violence - Domestic and family violence leave should form part of all modern awards.
Equal pay - Consideration should be given to a non-adversarial scheme for correcting the undervaluation of women's work. The recommendations in the "Making it Fair" report should be implemented in full.
Download the ASU Submission in response to Productivity Commission's Draft Report into Australia's Workplace Relations Framework.
Quotes attributable to ACTU Secretary Dave Oliver:
"If you wanted to write a list of what was needed to make Australia less prosperous, less fair, less progressive, then the Productivity Commission's recommendations are it."
"The Commission has ticked every box for unfairness: take it or leave it contracts, cuts to the wages of the lowest paid, two-tier system for penalty rates, power
disproportionately shifted to bosses and making it easier to sack people."
"If 7-Eleven is any example, no wonder big business wants to make it harder to access workplaces – it doesn't want its dirty secrets exposed."
"Wage growth in Australia is already low and the national minimum wage is just 43.3 per cent of average weekly ordinary time earnings – the lowest proportion on record – yet the Productivity Commission wants to drop it even further."
"This is Mr Turnbull's opportunity to show he's not in the pocket of employers and will stand by his word that his Government won't attack workers' conditions.
"We call on Mr Turnbull to govern Australia fairly with equal consideration for the rights of workers and business interests, a balance his predecessor failed to manage."
Media contact: Eleni Hale 0426 717 833