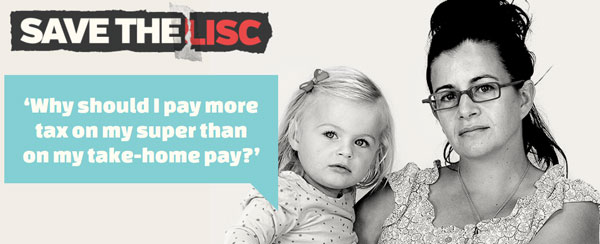 The retirement savings of millions of low paid Australians is under threat from Tony Abbott's harsh cuts. Each year the Government pays a small amount into the superannuation accounts of low paid workers earning less than $37,000 pa. It is called the Low Income Super Contribution (LISC) and while the Abbott government plans to keep tax breaks for high income earners they are going to cut the LISC for low income earners.
We can stop Tony Abbott's raid on the retirement savings but we have to do it now and we have to make some noise. The new Senate will decide the future of the LISC soon.
We need to let the key decision makers in the Senate, like Clive Palmer, that Australians support fairness in super.
>>> Click here to join the fight to protect the retirement savings of millions of Australian workers
The LISC was created to bring some fairness back to superannuation.
Each year the taxpayer kicks in billions of dollars to the retirement funds of top income earners through superannuation tax concessions that low income earners aren't eligible for. The small LISC payment, less than $500 a year, means low paid workers retire with tens of thousands of dollars more in their accounts.
Abolishing the LISC will hit 3.6 million people. One in three workers will be penalised. Women and regional workers will be the hardest hit by the changes.
>>> Click here to join the fight to protect the LISC
This attack comes at the same time that the Government is hitting pensions and telling us that we need to work longer. Common sense suggests that by saving pennies on superannuation we will have to spend pounds on pensions down the track. Once again the Government is tangled in twisted priorities.
Thousands of Australians have already signed on to keep super fair. By standing together we can make sure that everyone, not just those at the top of the heap, is able to have some security in retirement.