Now in its third year, Rail Careers Week aims to continue highlighting the many opportunities available in the rail industry as a place of employment and for career advancement. As a key union covering workers in the rail industry, the ASU encourages existing rail workers and potential entrants to the sector to consider the range of employment possibilities open to them.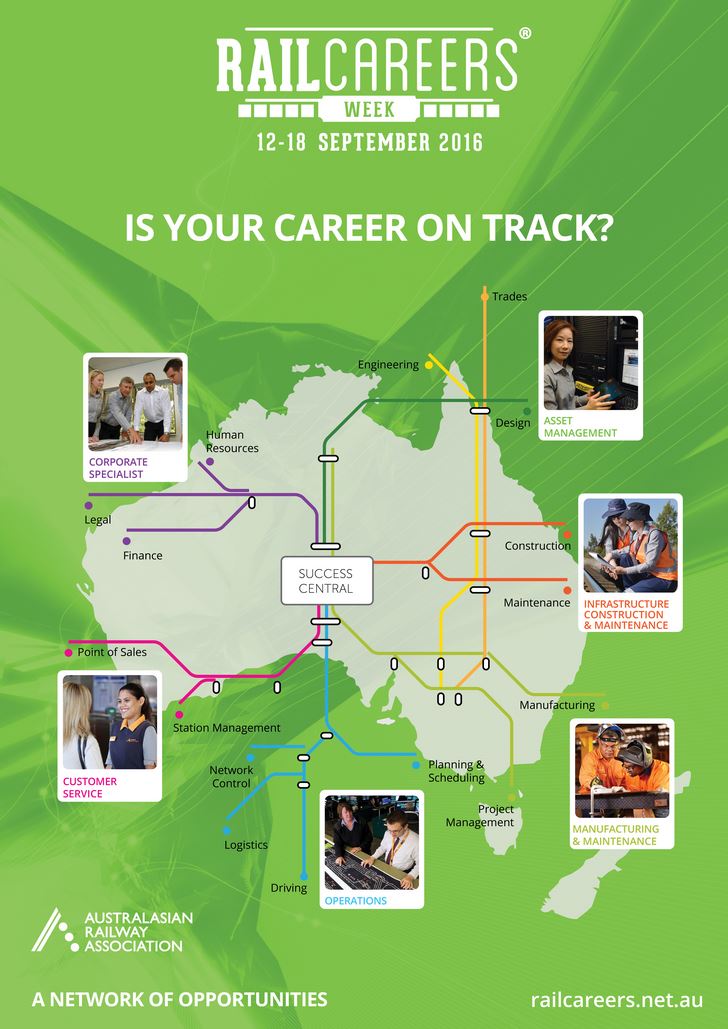 Rail Careers Week is run by the Australasian Railway Association (ARA) and we support their efforts to encourage more women and younger people into the rail sector, along with people from a range of backgrounds.
Click on the poster image to the right to download a full size version
ARA CEO, Danny Broad said, "This industry has historically been male dominated. This must change. Women are already making enormous contributions to all areas of rail, however a sizeable gender imbalance still exists. This gap must be closed.
"With 52 percent of the rail workforce aged over 45 and with the under 25s being the largest group under-represented at 4 percent, we also need to encourage more young people to enter our exciting industry.
"Whether people are leaving school, looking to change careers or returning to the workforce, rail offers a diverse range of interesting careers to explore and enjoy. Regardless of background, education or experience, I encourage all to consider a future in rail," said Mr Broad.
More information about Rail Careers Week, which runs 12-18 September, can be found here: www.railcareers.net.au
Did you know?
The following information about the rail sector was provided by the ARA.
As major investment continues to grow in new rail infrastructure projects, the increasing demand for skilled and talented personnel opens the door for new entrants to join the various sectors of this international industry.
Australia has the sixth largest rail network in the world with over 200,000 people working in a wide range of occupations, disciplines and professions. Employed by more than 180 companies comprising private and public passenger and freight operators, track owners and managers, consultants, contractors, manufacturers and suppliers, these jobs are located in urban, regional and rural areas across Australia.
Australia has 42,262 kilometres of existing track and with new metro and light rail projects underway alongside progression of Inland Rail and the growth of freight rail to ports, there is an expanded opportunity for employment in the rail industry.
Women represent 17 percent of the rail workforce
45-55 year olds are the most represented age bracket in rail
The average retirement age of an Australian rail industry worker in 63.7 years. The average age of retirement in Australia is 61.5 years.
The overall age profile reveals 52 percent of the rail workforce is over the age of 45, however only 35 percent work in Engineering and 40 percent in Signalling are aged over 45, indicating these two categories have the youngest workforce profile.
Train drivers are at the other end of the scale with 60 percent over the age of 45.
The under 25 age group is the most under-represented across all occupations at an overall average of 4 percent. The cate3gory employing the least amount of under 25's is Project Management at 1 percent and the highest is Signalling with 9 percent.
There is no better time to join rail with increased opportunities for skilled and talented employees seeking a good work/life balance and flexible working conditions.
* All data and statistics from: ARA, Workforce Development Report. Rail Workforce Data 2014. October 2014