As the call to action goes, Strong Unions Need Women. Now more than ever it is true that your contribution will mean strong communities can be supported by strong unions. The ASU wishes all its women members and friends a happy International Women's Day for 8 March!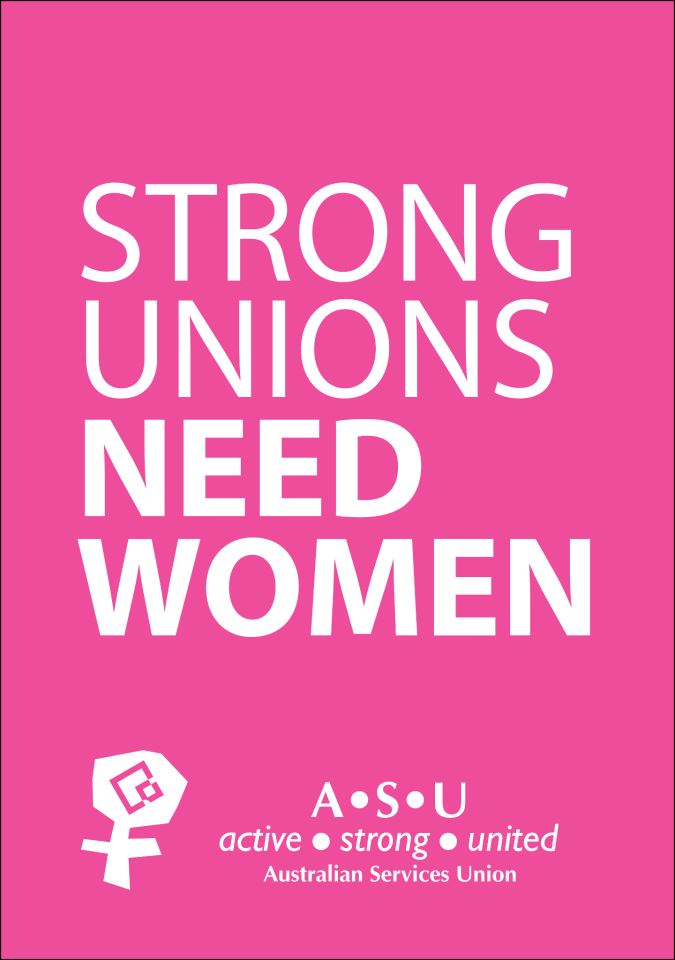 The legacy of Australian unions is now under targeted attack from many sources - business leaders, the Australian Government and some in the mainstream media. If they win, our families, working lives and income security will suffer.
Unions were designed to respond to the needs of working families and have participated with other community activists and organisations to improve working conditions, the legal protections and social security. It is a significant contribution that has meant a fairer Australian society for us all.
Women are joining unions in greater and greater numbers and together have won enhanced workplace rights for all working people. Most recently, ASU women have been at the forefront of campaigns increasing rights to paid parental leave, equal pay and protection balancing work and family responsibilities. These rights have become cornerstones of equality, fairness and income security for all working people.
What can you do to keep the ASU strong this year?
JOIN YOUR UNION AND BRING A FRIEND: visit ASUjoin to join online right now if you are not already a member and share the link with your colleagues.
PLAN AN ACTIVITY FOR IWD: This International Women's Day, celebrate the contribution of women in unions. Many activities are planned for 8 March 2013 around the country. Take a look at the IWD site.
SUPPORT ASU CAMPAIGNS: share news from our website with colleagues, friends and family, like the ASU on Facebook and follow us on Twitter, where you can share our content with your networks.
WEAR CAMPAIGN MATERIALS when you can, in your workplace: Visit the ASUshop to purchase union branded clothes and merchandise or contact your Branch to find out what they can send you.
SEND US YOUR PHOTOS AND VIDEOS: After 8 March 2013, send us photos and/or videos from IWD activities so we can publish them online. Please send them to: jknight@syd.asu.asn.au
ACTU President Ged Kearney's IWD2014 message

More information
The Australian unions' priorities for women in 2014 include:
Balancing work and Family
Equal pay and equal treatment
Rights at work and minimum standards
A voice at work and in the community
Read more on the ACTU website.