Research released this week showing low paid workers being affected by massive cuts to their take home Paid Parental Leave (PPL) has rightly angered many. The Coalition has treated this policy area disgracefully for years and this latest research has prompted us to revisit the rollercoaster ride we've been on with them. Australians starting or extending their families deserve better than this - if you can't improve the current PPL arrangements, Mr Turnbull, then just leave them alone!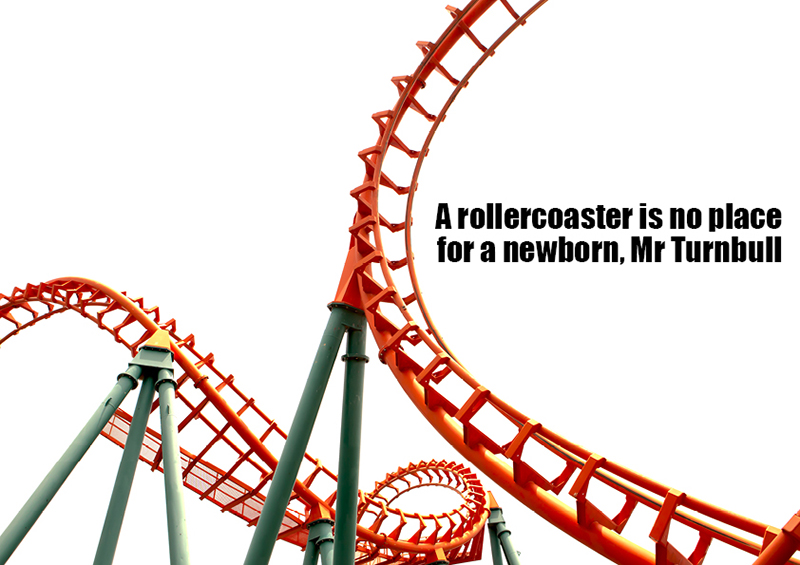 The recently released research was conducted by the University of Sydney and was widely reported in the Fairfax media: Low paid workers $10,000 worse off under Turnbull parental leave cuts: research, by Fergus Hunter, The Age & SMH, 14 January 2016
It shows that low paid workers could lose around $10,000 if the latest Federal Government Paid Parental Leave (PPL) version is passed into law.This was not news to the ASU - see below for more.
Where we are currently with the Coalition Government, however, is not the same place we were at before the last federal election. Many will remember Tony Abbott's extravagant promise. Do we all remember the Coalition's policy before that? How about the way the policy came tumbling down in the years following the election of this Coalition Federal Goverment?
We thought it would be instructive to have a look at the rollercoaster ride the Coalition has taken the Australian community on.
Click on this infographic for a larger version or you can download it as a PDF:

A rollercoaster is no place for a newborn - a brief history of the Coalition's paid parental leave policy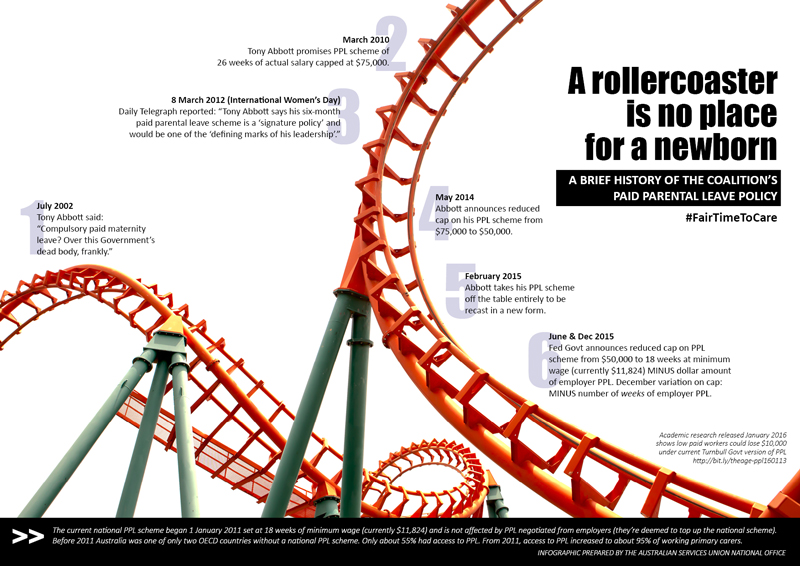 To all those people who have tried to plan their families, when to start them, when to extend them, how much they need to save, how much time will they be able to take off, etc, they are the ones who have borne the brunt of this disgraceful approach to such a critical policy area. The veering from one extreme to another would have wrought havoc on family budgets, let alone the direction we are heading in which sees newborns having less time with their primary carers as PPL provisions are slashed.
Latest research on PPL cut impact mirrors ASU modelling from 2015
The University of Sydney research mirrors the modelling done by the ASU last year showing how a worker on a salary of $40,000 per year could lose up to $11,824 if they have the "misfortune" of working for an employer who offers paid parental leave!
Click on the next image for a larger version or read about it in more detail here: Valuing families & the next generation means maintaining & improving fair time to care.

Take action to save paid parental leave
The ASU and the union movement in general is campaigning hard to protect the current national PPL provisions in place since 2011, a modest scheme by OECD world standards, but one which nonetheless successfully allowed more new parents to spend the quality time with their newborns that can make a huge difference to their development. We have employer PPL in many workplaces and a national scheme of PPL because members of the ASU fought hard for it for many decades. Help us save it for future generations of workers and along the way, improve it, too.