It's time to tell the Productivity Commission what you think of their recommendations about cutting your rights at work. Recently the Commission issued a Draft Report as part of its Inquiry into workplaces and as we expected, they followed the Federal Government's script on cutting penalty rates, freezing the minimum wage and undermining various other rights at work. The Commission is taking comments and submissions on its Draft Report before finalising its report to the Government, so please get involved by telling them what work is like in the real world.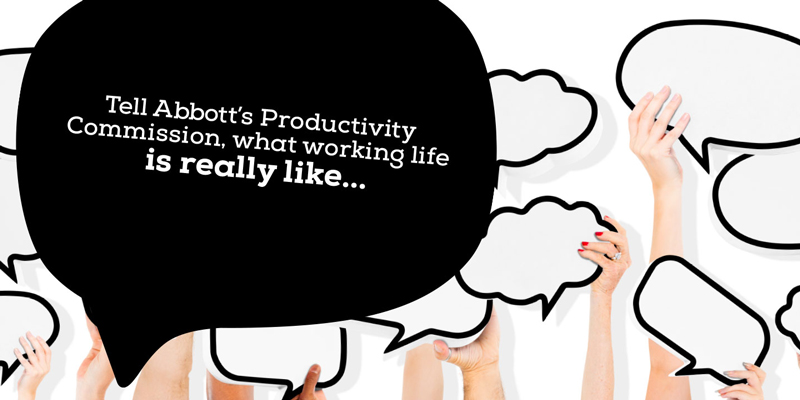 Although the ASU will be lodging a submission in response to the Draft Report, the voice of real people affected by workplace unfairness is always very powerful – we encourage you to raise your voice.
The deadline for sharing your views with the Productivity Commission is by Friday 18 September and there are two main ways to convey your story:
Tell your story – it's easy
Creating a submission is as simple as telling your own story. Here is an example of a submission someone could make – feel free to copy this text, paste it in the PC online form and amend it to match your situation:
I work in [insert industry/sector, eg. energy] and I receive penalty rates. I am very concerned that your Draft Report says penalty rates should be cut. Many ordinary workers like me rely heavily on penalty rates to make ends meet, eg. to pay the rent, mortgages, petrol to fill the car, sending our kids to school, visits to the doctor.
If penalty rates are removed, I would lose up to [insert estimate of percentage or actual amount you will lose, eg. 30% or $11,500 per year]. This would make a big impact on me.
Penalty rates compensate me for the sacrifices I make giving up time with my family and friends. It is unfair to expect me to work unsociable hours for ordinary rates of pay.I also believe cutting penalty rates is not good for our community because it means less money spent in the local shops, which leads to fewer jobs and lower living standards.
Please reconsider your recommendations to the Federal Government about penalty rates, otherwise ordinary people like me will be much worse off.
Just click on this link to go to the online form to tell your story now.
What the ASU will be telling the Productivity Commission
The ASU's submission in response to the Draft Report will concentrate on:
Penalty rates and why they need to be maintained. The Commission is recommending they are cut for retail and hospitality workers, but deeper in the Report they say they should be reviewed for everyone. It is not clear how this affects ASU members as clear definitions are not provided.
The importance of the minimum wage keeping pace with living costs, especially as it mostly applies to the most vulnerable workers in our communities. The Draft Report recommendations would result in the minimum wage stagnating and therefore only increasing income inequality in Australia.
Casualisation and job security issues are key for ASU members and workers in general, which was clearly illustrated in our massive survey of workers over 2014-2015. The Draft Report wants to make it harder for workers to bargain for job security and will see casualisation grow. In the real world this means ordinary workers can't meet requirements for mortgages, making home ownership even more remote for them.
The Productivity Commission's recommendation of new "Enterprise Contracts" has largely gone under the radar but the ASU will argue that they are a huge blow against workers' rights. Even more Draconian than John Howard's individual contracts that saw him and his party turfed out of government in 2007, these Enterprise Contracts would not even need to go before the Fair Work Commission to be ratified – this can only lead to silent exploitation of vulnerable workers much like witnessed in Four Corners recent episode on the 7-Eleven chain of convenience stores.
It is important that we convince the Productivity Commission to amend their recommendations. Your personal stories are important in making the Commission understand how those recommendations can affect real people to make their lives so much harder.
Resources
Read our summary of the Productivity Commission's Draft Report
Read the ASU's original submission which includes a one page summary of our key issues (see page 4)
Read the Productivity Commission Draft Report and/or the shorter Overview
REMEMBER THE DEADLINE: Friday 18 September 2015