In 1995 at the Fourth World Conference on Women, the Beijing Declaration and Platform for Action, referred to as the "the most progressive blueprint ever for advancing women's rights" was produced. However, 20 years later and progress towards the goals unanimously accepted by the representatives of 189 governments has not been satisfactory. The ASU says #MakeItHappen already!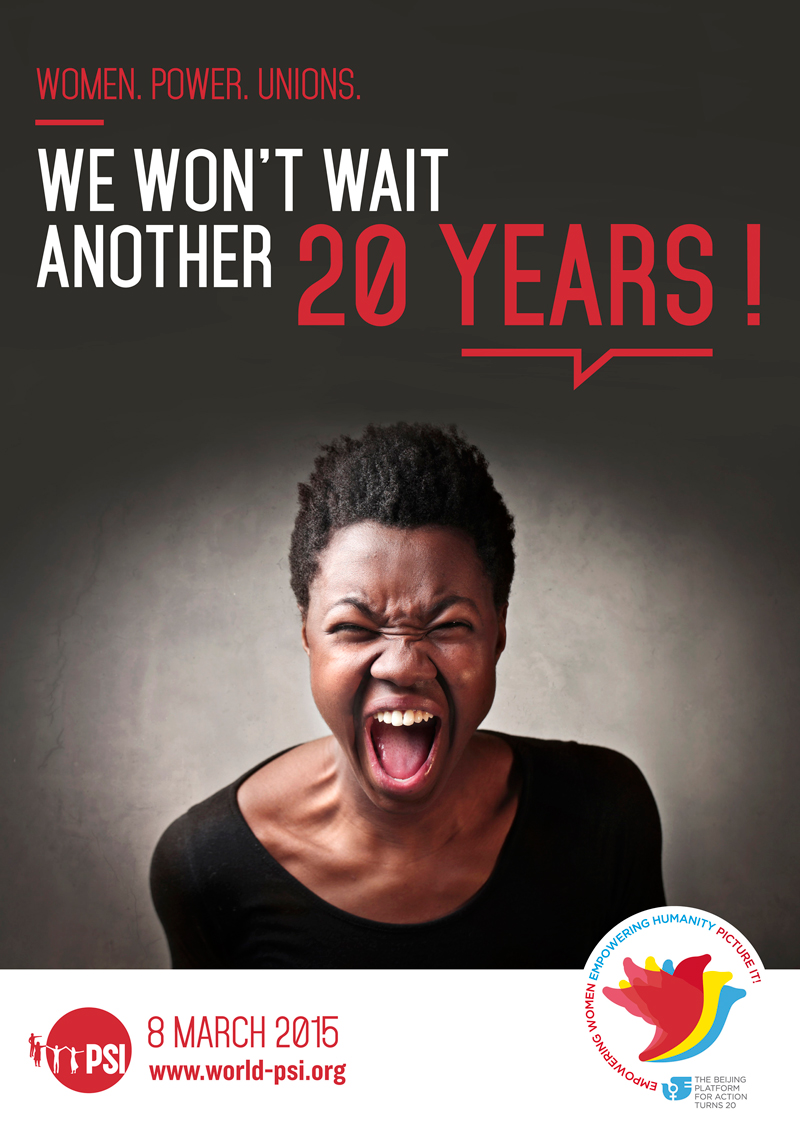 The Platform for Action attempted to put the world on a path where:
women and girls are free and have choices
they can realise their rights, eg. to be free from violence
they are not barred from education
they can participate in decision making
they earn equal pay for equal work
We are clearly not there yet, not even in Australia with the gender pay gap growing and a renewed focus on a national epidemic of family violence.
The ASU's international affiliate Public Services International (PSI) along with the International Confederation of Trade Unions (ITUC) and Education International (EI) are demanding a bold shift in approach. In November last year they submitted a statement to the United Nations expressing their concerns and posing future steps governments can take to actually make a difference, from targeted investments to labour reforms.
PSI General Secretary Rosa Pavanelli says: "Gender equality has not been achieved in the last 20 years. We need a political, social and cultural shift and recognise that pro-women and pro-worker policies will make the difference and trade unions have a key role to play in this process. Empowering women indeed empowers societies."
And if you were wondering whether women "deserve" equality: women perform 66% of the world's work and produce 50% of the world's food, yet they only receive 10% of the world's income and own 1% of the world's property.
This video reflects on the unsatisfactory progress towards the goals of the Platform for Action by Natasha Stott Despoja, Australia's Ambassador for Women and Girls
Solidarity actions you can be involved in for #IWD2015
Find a local IWD event or contact your ASU Branch for advice.
Host an activity at your workplace to show collective support for women eg. you could ask a group to take part in the 2015 Walk In Her Shoes Challenge (16-22 March).
Male supporters of gender equality can make a very specific statement: Make the HeForShe Commitment.
Gender equality is not a women's issue, it is a human rights issue. Commit to take action against all forms of violence and discrimination faced by women and girls. Get informed and support organisations like WESNET or the Luke Batty Foundation .
Write to your MP about the need to hold a national Royal Commission into Violence Against Women and Children.
Take selfies of yourself, your friends, colleagues, etc wearing a women's themed t-shirt or carrying a sign and post it to your favourite social media network with the hashtags #iwd2015 #MakeItHappen (on Twitter tag us @ASUnion so we can see it and retweet).
Join the ASU to demonstrate your commitment to gender equality in Australia and around the world.
International Women's Day is a time to celebrate, to reflect and to think about what we will all do tomorrow to make gender equality happen.
REMEMBER: the Sydney IWD March is on Saturday 14 March 2015 not on IWD itself