To mark International Women's Day 2016 tomorrow, we invite both ASU members and non-members, women and men, to pledge to combat gender inequality at work. A recent report from RMIT University has shone a spotlight on research by the World Health Organisation (WHO) that argues promoting gender equality in society will help prevent violence against women.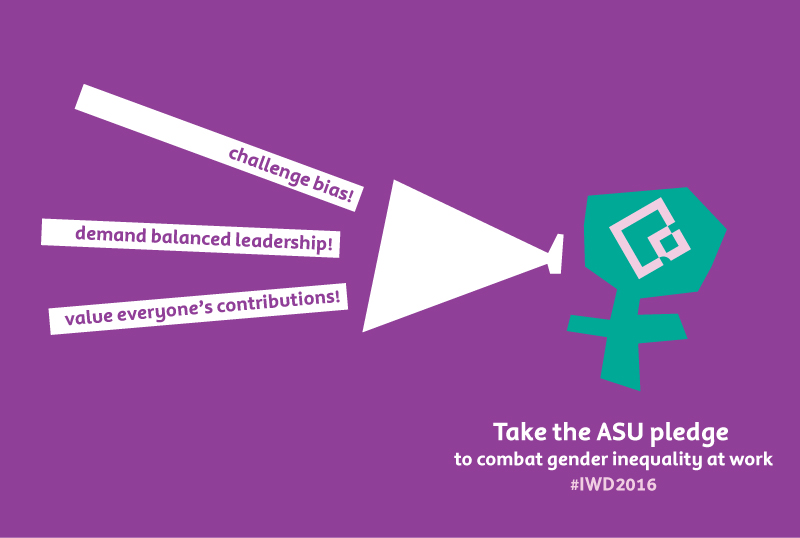 >> Take the pledge now - skip to the form below
The ASU has been campaigning with the union movement in general for universal domestic violence leave for all workers. As a pioneer of this workplace benefit, the ASU understands its importance and hopes to see all workers have access to it. The recent RMIT University report takes a step back and says that we can also help prevent domestic violence by combatting gender inequality in workplaces.
The RMIT University report outlined directions and strategies for workplaces to be part of the solution proposed by the World Health Organisation (WHO) to end violence against women. Although awareness raising is beneficial, there is more organisations can do to achieve change but it requires commitment and action. The ASU's pledge below tries to capture the essence of the changes required to kickstart the journey toward gender equality.
The ASU's recent work investigating women's finanacial security in retirement also encourages us to argue that greater gender equality will have direct positive consequences for women avoiding poverty or hardship at the end of their working lives. Either through properly valuing paid and unpaid caring work predominantly done by women in our society or ensuring there is a greater sharing of the caring work between men and women, these objectives will help close the gender pay gap and the even bigger gender superannuation gap.
Take the ASU pledge
Help kickstart our journey toward gender equality by taking active steps in your workplace reflected in the ASU pledge.
You can also complete the pledge online here: www.surveymonkey.com/r/IWD2016-ASU-pledge
What do conscious and unconscious bias look like?
When pay outcomes are hidden, and the conditions that some co-workers enjoy are largely unknown, suspicions of bias tend to erupt. If workers are being rewarded fairly for their efforts, secrecy is no virtue in the workplace. In fact, studies indicate that when employees perceive inequity in their pay, productivity is diminished, people look for rewarding work elsewhere and a gloomier workplace culture sets in.
What does gender-balanced leadership look like?
This one's a bit easier to identify! Does your management team reflect the rest of your organisation or client-base in terms of gender proportions? Does it feel like people are getting a look in at leadership positions regardless of their gender?
What does it look like when women and men's contributions are equally valued?
Exceptional leaders nurture all their team members and recognise that different people contribute differently to a successful team approach. In a multidisciplinary team, not everyone is doing the same thing, but everyone is contributing towards success.
Gender equality is all about encouraging proper respect for the roles of both men and women, however they choose to divvy up the caring and the wage earning, let alone the shopping and the housework!
Further information
ACTU: Women are still losing out on pay at every stage of life, new report reveals, 7 March 2016
The Age: Pay secrecy lets employers get away with paying women less, by Michelle Brown and Leanne Griffin, 8 March 2016
SMH: Old way of paying for retirement is failing the modern, female workforce, by Robbie Campo, 2 March 2016
SMH: Young women increasingly anxious about their finances, by Matt Wade, 7 March 2016
IWD events: Enter your country and town/city to find out what's on near you