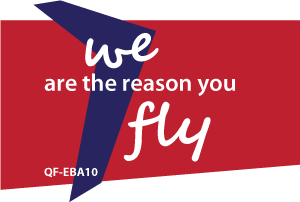 ASU Qantas EBA10 - we are the reason you fly
Our ASU Qantas Enterprise Bargaining Agreement 10 (EBA 10) commenced with the release of our EBA survey in October 2012; see Bulletin 1.

Almost 1300 staff filled in the Survey and told us what they believed should be the ASU priorities in EBA 10.
A Qantas Group National Delegates meeting was held on 6th and 7th February 2013; see Bulletin 2.
At the two day meeting the Qantas delegates considered the EBA 10 survey results and formulated a claim which has been overwhelmingly endorsed by ASU members at meetings across Australia; see Bulletin 3, see Claim.
The Qantas National delegates also selected the ASU EBA 10 National Negotiating Team (NNT). Here is a message from our team NNT - Info Brochure - EBA 10
The ASU claim has been given to Qantas and we provided the company with our detailed claims at our first two meetings see Bulletin 4 and Bulletin 5.
At our third and fourth meetings with Qantas management they provided us with their claims for EBA 10, see Bulletin 6 and Bulletin 7.

In total we had 8 meetings with Qantas the details about these additional meetings are in Bulletin 7 and Bulletin 8. At our 8th meeting the National Negotiating Team decided it was time to report back to our ASU Qantas National delegates group, see Bulletin 9.
On 26th July 2013 a meeting of ASU Qantas delegates unanimously recommended the ASU Qantas EBA 10 offer to ASU members and meetings of members have been scheduled to consider this recommendation and offer, see Bulletin 10.
ASU members have overwhelmingly endorsed the recommendation to accept the Qantas offer of settlement and the process for consideration of the new EBA under the Fair Work Act will commence, see Bulletin 11. You can download the documents that are to be considered by staff covered by the EBA here.
Staff resoundingly voted to accept the EBA that was recommended by the ASU NNT – and the paperwork for approval of the EBA at the Fair Work Commission was lodged on 12 September 2013 and we are waiting for the Commission to process the application for approval (Bulletin Vote and Bulletin 12). The Fair Work Commission approved the EBA on 30 October 2013, see Bulletin 13.